Baseball Legend "Buzzie" Bavasi '38 Enters Breitbard Hall of Fame
February 13, 2007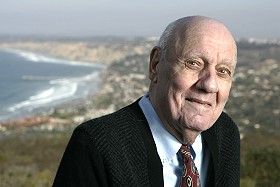 February 13, 2007, Greencastle, Ind. - "Generally credited as the man who brought major league baseball to San Diego, E.J. 'Buzzie' Bavasi is to be inducted into the Breitbard Hall of Fame tonight," reports today's San Diego Union-Tribune. "Considering the sporting life Bavasi has lived -- even before he delivered the Padres to San Diego and saw them through their rough first few years, and even before he helped put 'The Show' in Southern California in the form of the Los Angeles Dodgers -- the Hall would have to add another wing to facilitate Bavasi's souvenirs and the memories of his own experience over nine decades and change," writes Chris Jenkins of Bavasi, a 1938 graduate of DePauw University. (photo: Scott Linnett/Union-Tribune)
The Breitbard Hall of Fame is located in the San Diego Hall of Champions Sports Museum. Established in 1953, it honors athletes who have excelled athletically in San Diego, or who are native
San Diegans who have achieved athletic fame elsewhere.
"I don't think there's a person I've met in baseball, on or off the field, that I didn't like," the 92-year-old Bavasi tells the newspaper. "I joke that Don Larsen was the exception, and that's only because he threw a perfect game against the Dodgers in the World Series."
Jenkins notes, "Bavasi was there for that historic event, too, and that was more than a half-century ago. When major league baseball decided to tear down the color barrier and put blacks on the playing field, Bavasi was in the room, and he sure wasn't offering a dissenting vote. Jackie Robinson, after all, was with the Dodgers. Bavasi personally challenged the entire Lynn (Mass.) Red Sox to a fight in the parking lot after members of that minor league team had pelted Roy Campanella and Don Newcombe -- both black players with the Nashua, N.H., club run by Bavasi -- with racial epithets during a game."
The article includes background on Bavasi's nearly half-century-long career as a baseball executive with the Dodgers, Padres and Angels, and some humorous anecdotes. "All I demanded of players was that they stand for the national anthem before
games," Bavasi recalls. "Respect the flag of the United States or it was a $100 fine if you didn't. One day one kid comes to me and says, 'Geez, Buzzie, every time I stand for The Star-Spangled Banner, I have a bad night.' I said, 'No problem.' He said, 'You mean I don't have to stand?' I said, 'No, just give me a check for $16,200.' Turns out he wasn't that superstitious."
Tonight's other inductees will be former San Diego Charger defensive lineman Gary "Big Hands" Johnson and retired relief pitcher Rich "Goose" Gossage.
Read more at the Union-Tribune's Web site. Also available is this previous story on Buzzie Bavasi, and the executive recalled his days playing baseball at DePauw in this 1982 article.
Back