Tim Solso '69 to Lead American Delegation at US-Brazil CEO Forum
April 26, 2008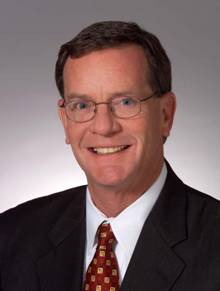 April 26, 2008, Greencastle, Ind. - "President George W. Bush will host top U.S. and Brazilian business leaders on Monday as part of a year-old effort to promote two-way trade and investment, the White House said on Friday," reports the Economic Times of India. "Tim Solso, the head of Cummins, Inc, will lead the U.S. delegation, which includes top executives from Alcoa, Cargill, Citibank, Coca-Cola, General Motors, Illinois Tool Works, Intel, and International Paper." Solso is a 1969 graduate of DePauw University.
The U.S.-Brazil CEO Forum "provides a unique opportunity to add the energy and expertise of private sector leaders to our bilateral dialogue," says White House spokesman Tony Fratto. "It's critical that the United States and Brazil maintain effective dialogue between business and government in shaping improvements to the investment climate and
supporting a pro-growth economic agenda," he adds.
Access the complete story by clicking here.
Tim Solso was recently honored with the Anti-Defamation League's "Man of Achievement Award," as well as the 2007 International Executive of the Year award from the Academy of International Business (AIB) and the American Business Award for "Best Chairman."
Back