"Time is Running Short" for Group Hoping to Honor H. Weir Cook '16
May 12, 2008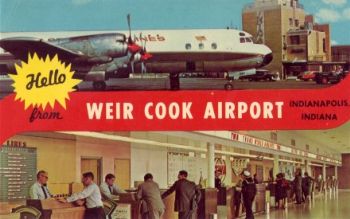 May 12, 2008, Greencastle, Ind. - "A group of volunteers and Indiana veterans hope to restore the name of the airport to honor an aviation hero," reports Indianapolis NBC affiliate WTHR-TV. In 1944, the Indianapolis airport was named for Lt. Col. Harvey Weir Cook, a member of DePauw University's Class of 1916, "who was one of the first aviation war heroes from Indiana" and who had died the year before. In 1976, the name was changed to Indianapolis International Airport.
"This board of just seven people, I think, back then decided among themselves, well, you know, they were going to change it and they will tell the public later," says Christy Broady of the Weir Cook Community Project. "Why would they do a thing like this? I was told they wanted to improve the name of Indianapolis across the country."
The city will open its new airport this fall, and Broady's group is lobbying to have the facility again pay tribute to Cook's legacy. "Time is running short for the group," WTHR's Richard Essex reports. "The opening of the new midfield terminal (is) this fall and a name restoration would mean signs will have to be changed. So far, the Weir Cook Community project has
not found a place on the airport authority board's meeting agenda."
"He was an American hero and American heroes were respected and admired by kids in those days," Bob Book, a retired Marine, tells the television station.
Read a summary of the story at WTHR.com.
Learn more about H. Weir Cook in this previous article.
Back