Relay Raises $160K+ to Fight Cancer; There's Still Time to Contribute
May 4, 2008
Also: Putnam County Relay For Life Web Site;

[Download Video: "2008 Relay For Life Video" - 9310kb]
May 4, 2008, Greencastle, Ind. - Despite a weather forecast that forced organizers to move the 2008 Putnam County Relay For Life indoors just a few hours after it began, the annual fundraiser ended at noon today with donations of $160,755.86. "As is always the case, money will continue to come in until August, when we officially close the books on the event," says DePauw senior and Relay co-chair Hannah Marston. "Our thanks to the many, many people who contributed to a very successful endeavor."
Partly cloudy skies and a strong breeze greeted those who gathered at DePauw University's Blackstock Stadium at noon Saturday as the 24-hour-long fundraiser for the American Cancer Society began. But threatening weather moved into the area by mid-afternoon; by 5:30 p.m. everyone had moved to the indoor tennis and track center.
About 1,450 individuals registered in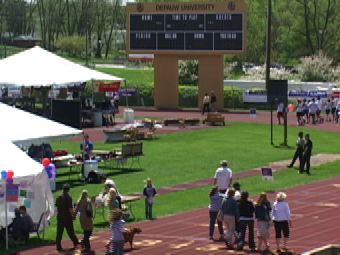 advance to participate in the event, comprising approximately 165 teams. This year's theme was "Celebrate. Remember. Fight Back."
The event -- which brings DePauw students, faculty and staff together with members of the Putnam County community to raise funds to fight cancer -- "Shows us what we can be," says Greencastle Mayor Sue Murray, who is an annual Relay participant. "And what we can be not just the 24 hours for Relay but what we can be every day of the year, and I think that's something we all benefit from."
In his welcoming remarks just before noon on Saturday, DePauw President Robert G. Bottoms noted that -- like so many Americans -- his family has been struck by cancer. "And as I think about Relay For Life, I think that perhaps one of the differences between what happened 20 years ago and what can happen today -- positive differences -- have to do with the research that goes on," work which is supported by the fundraiser.
The events co-chairs, DePauw students Hannah Marston and Raija Bushnell, thanked their committee of 40 volunteers who helped put 165 teams in place and worked together to plan the huge event. "I guess Relay is sort of like a wedding," Bushnell said. "You're preparing -- it takes hours, it takes days. You talk to lots of people, you try on your dress -- only it's a t-shirt -- and then it's here, only instead of a wedding, which is one hour, you have 24 hours to get everything right." Moments before the event began, she predicted, "I will have the wedding blues afterwards, but it'll be a great time." (at left: President Bottoms; Nancy Speller, wife of vice president for finance and administration; and Gwen Bottoms)
See a brief video of 2008 Putnam County Relay For Life, produced by DePauw's executive director of media relations, Ken Owen '82, here:

[Download Video: "2008 Relay For Life Video" - 9310kb].
The DePauw-hosted Relay has won several awards for being among the best of its kind among American

colleges and universities. The fundraiser was first held in 1996 and raised nearly $15,000. The total grew to approximately $30,000 by 1999 and $42,000 in 2000. Then, 2001 brought in $80,000; followed by $127,000 in 2002; more than $162,000 in 2003; 2004's $208,735; and a 2005 total of more than $230,000. The 2006 and 2007 Relays each raised approximately $220,000 for the cancer fight. Approximately $40,000 had been raised prior to the start of this year's event.
At this online page you can learn more about the 2008 Relay and make a donation. You're also invited to send an e-mail to relayforlife@depauw.edu.
Back