Senior John Schomburg Awarded 2008 Walker Cup
May 5, 2008
Also: Complete List of Academic Awards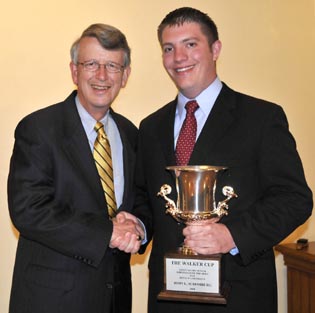 May 5, 2008, Greencastle, Ind. - John L. Schomburg, a DePauw University senior from Edina, Minnesota, is the 2008 recipient of the Walker Cup. The award recognizes the senior student judged to have contributed the most to the University during his or her four-year college career. It was presented tonight during DePauw's academic awards convocation, which was held in Meharry Hall of historic East College.

[Download Video: "President Bottoms Announces Winner" - 3312kb] "This year's winner has been a student scholar," noted President Robert G. Bottoms as he described the Walker Cup recipient's accomplishments. "He's been named to the dean's list each semester. Like many of our students he has studied off campus, in Russia and Botswana. He has held an internship at Harvard Medical School and has been so very active on campus -- a leader in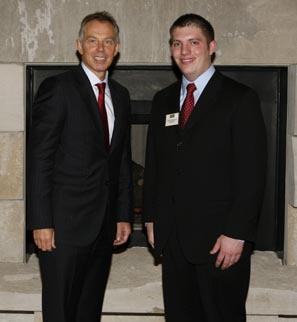 Relay For Life, coordinating service projects for his living unit, serving on the Coalition for a Responsible Community, working for ITAP (Information Technology Associates Program) consulting with businesses in Greencastle, active in student government," said Dr. Bottoms of the current student body president. He also pointed out that Schomburg "served on the presidential search committee to choose my successor," Brian W. Casey, who will assume leadership of DePauw in July. (at right: Schomburg with former British Prime Minister Tony Blair at DePauw; March 3, 2008)
Students, faculty and parents who filled Meharry Hall of historic East College tonight also heard from one of the two winners of this year's Exemplary Teaching Award -- given jointly by DePauw University and the General Board of Higher Education of the United Methodist Church through the support of the George and Virginia Crane Distinguished Teaching Award Fund.
"Everything is academic" is the teaching philosophy of Kerry E. Pannell, associate professor of economics and management. "That is, every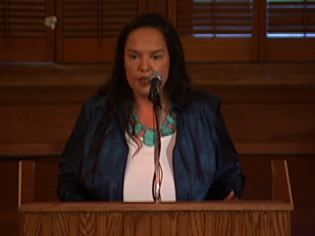 aspect of our lives is a fruitful subject for the scholarly inquiry." Pannell encouraged the soon-to-be graduates to continue to observe, inquire and participate in the world after their undergraduate educations are completed.

[Download Video: "Prof. Kerry Pannell" - 2822kb] "It is from our passion and our compassion that DePauw students will help bring justice where there is none, food where there is little, and hope where there is despair," Dr. Pannell said. "The spark that gives all these scholarly activities meaning is what you find important: those events, those ideas and influences that meaningfully intersect your world. So now, as you gather up your awards and usher forth from this room, this campus, this very small town, you take with you more than memories and friendships. You depart armed with the tools that prepare you for new goals; goals that will bring their own rewards as they, too, become accomplishments."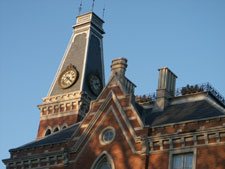 The professor concluded, "Thank you for including me and the rest of the DePauw faculty on this journey. We welcome the contributions you will continue to make."
Pamela M. Propsom, professor of psychology, was the other Exemplary Teaching Award winner.
A PDF of the program with a complete listing of tonight's award winners can be accessed by clicking here.
Back