David Wann '71 Authors Simple Prosperity: Finding Real Wealth in a Sustainable Lifestyle
May 7, 2008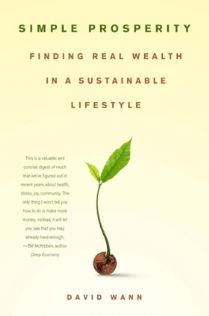 May 7, 2008, Greencastle, Ind. - "If ever there was a right book at the right time, Simple Prosperity says Lester R. Brown, president of the Earth Policy Institute. Simple Prosperity: Finding Real Wealth in a Sustainable Lifestyle is authored by David L. Wann Jr., a 1971 graduate of DePauw University, and has been published by St. Martin's Griffith.
A synopsis notes, "In his bestseller Affluenza, David Wann and his co-authors diagnosed the debilitating disease of over-consumption. In Simple Prosperity he shows readers how we can overcome this disease by investing in a variety of real wealth sources."
The author says his book provides "a systematic description of an emerging American lifestyle in which we finally break free of over-consumption -- what we called 'affluenza' in a previous book. It is economically and geologically impossible for current rates of consumption to continue; we're simply churning through too many resources too fast." Wann adds, "Our current way of life is also not a great match with the equipment we were issued, our heads and bodies. This mismatch of psychology, biology, and politics prevents us from taking care of ourselves, and the environment. Fortunately, we are already inventing a new way of life that is twice as satisfying yet uses only half the resources we currently use, such water, energy, minerals, and soil."
"This is a valuable and concise digest of much that we've figured out in recent years, about health, stress, joy, community," states Bill McKibben, author of Deep Economy: The Wealth of Communities and the Durable Future and 2007 DePauw Discourse participant. "The only thing it won't tell you how to do is make more money; instead, it will let you see that you may already have enough."
Learn more about Simple Prosperity at Amazon.com or Dave Wann's personal Web site.
Back