Jim Nelson '63 and Wife Jean Honored for Community Service Efforts
May 8, 2008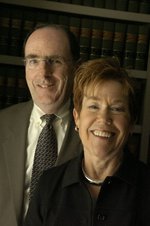 May 8, 2008, Greencastle, Ind. - "We felt really honored and surprised," says James B. Nelson, a partner in the law firm of Murphy & Nelson and 1963 graduate of DePauw University. He and his wife, Jean, are the 2008 recipients of the Ypsilanti Area Chamber of Commerce Distinguished Service Award, which will be presented this evening. A modest Nelson tells the Ann Arbor News, "We don't feel that we have done anything out of the ordinary." (photo: Eliyahu Gurfinkel/Ann Arbor News)
Khalil Hachem writes, "Chamber president Diane Keller said the Nelsons have a history of community service dating back nearly 40 years. 'They have been phenomenal and they continue to serve the community,' she said."
The story details the couple's many contributions to their community. "When Ypsilanti officials proposed a state-of-the-art library in the late 1990s, they turned to Jean Nelson to organize a millage campaign to pay for the project. And eight years later, they called on her again to bring Superior Township into the library district. Her husband, Jim, who is an Ypsilanti attorney, is past president of the Ypsilanti Rotary Club and the Ypsilanti Downtown Development Authority. He serves on the Riverside Arts Center board, and it's not unusual to see him mowing the grass and maintaining the grounds at the center in downtown Ypsilanti. The Nelsons say they are strong believers in community service and they want to invest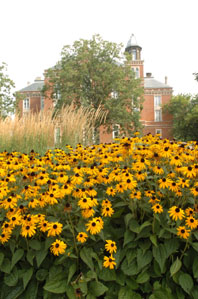 as much time as possible making the Ypsilanti area attractive. They serve on various boards and organizations, working quietly."
"Jim does not ask for acknowledgment," says Brian Vosburg, director of the Downtown Development Authority. "He just helps quietly and does what is best for the community."
The text notes, "Jim is a native of Ypsilanti. His father died when he was 11, and he was raised by his mother, with strong emphasis on appreciating the Ypsilanti community. After graduating with a degree in psychology from DePauw University in Greencastle, Ind., he went to Wayne State University for a law degree. Nelson met his wife at a St. Patrick's Day party in Ann Arbor in 1967. But it was luck, and a willingness to help out, that led him to that gathering: Jim Nelson and his friends helped a motorist who was stuck in the snow and the man invited them to the party. The Nelsons were married a year and half later."
Read the article in its entirety at the newspaper's Web site.
Back