Man's Encounter with DePauw Experiment Gets Newspaper's Attention
May 10, 2008
May 10, 2008, Greencastle, Ind. - "Wednesday afternoon, as Rushville resident Ryan Fields was driving on U.S. 52 east of town, a science project from a state university made an unplanned landing on the hood of his vehicle," begins a story in the Rushville Republican. The article details how Fields became "an unwitting participant in a scientific test that began at an intermediate school in Greencastle earlier in the morning, when DePauw professor of physics and astronomy Dr. Howard L. Brooks and others released the Balloon Assisted Stratospheric Experiment."
Fields tells the newspaper, "It was definitely one of the wildest things I have ever seen. I saw something pink hit the front of the truck and I looked in the rear view mirror, because usually things go underneath the vehicle. I noticed I had a parachute draped over the back of the truck. My dog was going nuts in the front seat. I stopped, picked it up, and saw DePauw University on the box so I called them up."
Professor Brooks was tracking the balloon,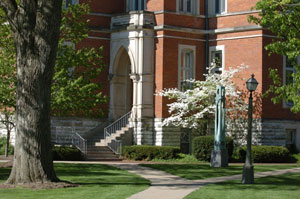 which had launched from Tzouanakis Intermediate School a few hours earlier. He was about a half-mile away when the project landed. (top photo: Fields holding the experiment while Brooks stands next to him)
"The experiments are designed by students from DePauw and various schools throughout western Indiana," Brooks tells the newspaper. Frank Denzler writes, "On a typical flight, nearly 200 cubic feet of helium is used to elevate the balloon and experiment to altitudes of 80,000 to 100,000 feet. A typical flight lasts between 90 minutes and five hours before pressure causes the balloon to burst, resulting in the experiment returning to earth. During the time aloft an in-flight camera films the flight while communication devices enclosed keep those on the ground aware of its location."
Dr. Brooks points out, "After the balloon burst the system tumbles toward the ground for several minutes before
the parachute encounters enough air to become effective. During the tumbling process the packages can attain speeds in excess of 100 mph, but impact speeds are generally less than 20 mph."
Read the complete text at the Republicans' Web site.
On this page, access information on Wednesday's launch and view video clips. Learn more about the weather balloon experiments in this previous story.
Back