Compendium Blogware Co-Founder Ali Sales '03 Featured in Indianapolis Business Journal
May 10, 2008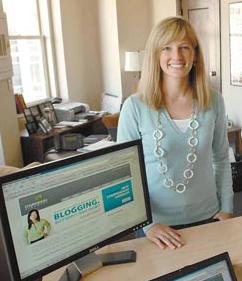 May 10, 2008, Greencastle, Ind. - "The number of blogs operating on the Internet outnumbers the inhabitants of California, New York, Texas and Florida combined," begins an Indianapolis Business Journal feature on Compendium Blogware, co-founded about 1 1/2 years ago by 2003 DePauw University graduate Alison "Ali" Sales. Compendium is a software company that "offers tools to help businesses create, manage and search-optimize blogs."
Of Sales, Scott Olson writes, "The Columbus, Ind., native who graduated from DePauw University spent two years at ExactTarget as an Orr Fellow, a program that aims to keep college graduates in Indiana. From there, she went to locally based Resort Condominiums International LLC as an online marketer before ending up at ChaCha Search Inc., tech guru Scott Jones' human-assisted Internet search engine." Sales, 27, majored in English writing and was a Management Fellow at DePauw.
The article notes, "As Web sites morph from standard stagnant formats into interactive portals in which information is exchanged and updated daily, [co-founder Chris] Baggott said he's confident Compendium can be the cornerstone of a company's marketing plan. Blogs are increasingly popular. Search engine Technorati tracks 112.8 million blogs worldwide and estimates that an average of 175,000 new blogs come online every day."
Access the complete text at IBJ.com.
Back