Mother's Day Began as a Call for Peace, Says Prof. Valarie Ziegler
May 11, 2008

May 11, 2008, Greencastle, Ind. - "The first Mother's Day proclamation, an impassioned plea for peace, was written by Julia Ward Howe in 1870," notes a news release which includes comments from Valarie H. Ziegler, University Professor and professor of religious studies at DePauw University. "Howe, now remembered for writing the words to The Battle of the Hymn Republic, was absolutely committed to the Civil War," says Dr. Ziegler, who authored Diva Julia: The Public Romance and Private Agony of Julia Ward Howe. "But by 1870, she began to look critically at war, particularly at war between nations. By this time, she was also very interested in the women's movement and women's suffrage. So, she began thinking of what might be possible for women to do on behalf of humanity."
The professor continues, "She would in time hold peace conferences both in the United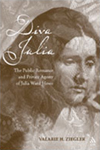 States and in Britain ... And so, Mother's Day originally was not a day when dad cooked and you went to church, and the ladies got applause and everything. It was really a day for women to come together and to call men and the world to see the necessity for living in peace, rather than giving into the ravages and aggressions of war."
Access the item by clicking here.
Ziegler served as historian for an opera, Julia, which debuted in New York City last fall. The libretto for the opera is taken from the letters of Julia Ward Howe (1819-1910). Last Mother's Day, she was cited in South Carolina's Spartanburg Herald-Journal.
Back