Barbara Kingsolver '77 Offers Duke Graduates Advice on 'How to be Hopeful'
May 11, 2008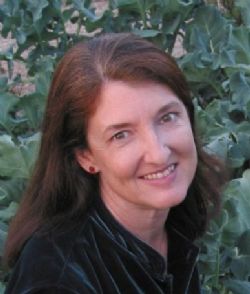 May 11, 2008, Greencastle, Ind. - "The very least you can do in your life is to figure out what you hope for," Barbara Kingsolver told Duke University's 2008 commencement ceremony today. "The most you can do is live inside that hope, running down its hallways, touching the walls on both sides," added the bestselling author and 1977 graduate of DePauw University. Her address was titled, "How to be Hopeful."
"What can I say to people who know almost everything?," Kingsolver asked. "There was a time when I surely knew, because I'd just graduated from college myself, after writing down the sum of all human knowledge on exams and research papers. But that great pedagogical swilling-out must have depleted my reserves, because decades have passed and now I can't believe how much I don't know. Looking back, I can discern a kind of gaseous exchange in which I exuded cleverness and gradually absorbed better judgment. Wisdom is like frequent-flyer miles and scar tissue; if it does accumulate, that happens by accident while you're trying to do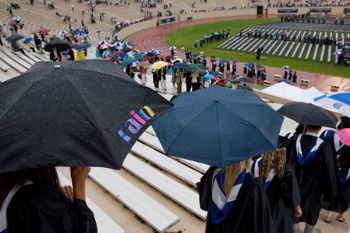 something else. And wisdom is what people will start wanting from you, after your last exam."
The author of The Poisonwood Bible and the recent Animal, Vegetable, Miracle: A Year of Food Life also discussed the challenges the young graduates will face, including those posed by the environment and depletion of resources. "Imagine it: we raised you on a lie," Kingsolver stated. "Everything you plug in, turn on or drive, the out-of-season foods you eat, the music in your ears. We gave you this world and promised you could keep it running on: a fossil substance. Dinosaur slime, and it's running out."
Kingsolver, who also received an honorary degree from Duke today, continued, "How can we get from here to there, without burning up our ship? That will be central question of your adult life: to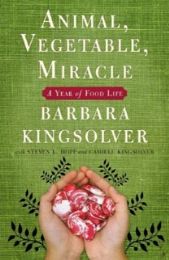 escape the wild rumpus of carbon-fuel dependency, in the nick of time. You'll make rules that were previously unthinkable, imposing limits on what we can use and possess. You will radically reconsider the power relationship between humans and our habitat. In the words of my esteemed colleague and friend, Wendell Berry, the new Emancipation Proclamation will not be for a specific race or species, but for life itself."
Before closing with a poem, Hope; An Owner's Manual, Kingsolver declared, "The arc of history is longer than human vision. It bends. We abolished slavery, we granted universal suffrage. We have done hard things before. And every time it took a terrible fight between people who could not imagine changing the rules, and those who said, 'We already did. We have made the world new.' The hardest part will be to convince yourself of the possibilities, and hang on. If you run out of hope at the end of the day, to rise in the morning and put it on again with your shoes. Hope is the only reason you won't give in, burn what's left of the ship and go down with it. The ship of your natural life and your children's only shot."
Duke awarded more than 4,000 undergraduate, graduate and professional degrees during a chilly, drizzly morning ceremony in Wallace Wade Stadium.
Access the text of the complete address at Duke's Web site.
In 1994, Barbara Kingsolver delivered the commencement address at DePauw, and was also awarded an honorary degree during the ceremony. A summary of her speech -- including an MP3 file -- can be found in this previous story. Video is embedded below.
Back