Tiger "Institution" Ted Katula Featured in Ohio Newspaper
May 13, 2008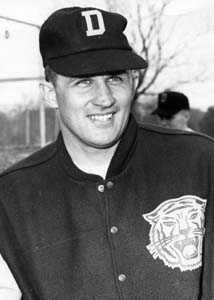 May 13, 2008, Greencastle, Ind. - "When a man's contributions and achievements can attract (more than) a million dollars in his name to his university, he must be a special individual," begins a story in today's edition of Ohio's Youngstown Vindicator. "Such is the case for Ted Katula Jr., a Campbell Memorial High and Ohio State graduate and a former coach, athletic director and administrator at DePauw University, whose name has raised (funds) for the benefit of DePauw athletics."
The article notes the November 12, 2005 announcement of a new endowed chair, the Theodore M. Katula Director of Athletics. John Kovach writes, "Katula, who served the university for 40 years before retiring in 1996, filled many roles at DePauw, both on and off the athletic field. Affectionately known as 'The Katman,' he served as athletic director, men's and women's golf coach, assistant football, wrestling and baseball coach and director of student activities, as well as working in alumni relations and as a fundraiser."
Ken Owen '82, executive director of media relations at DePauw, tells the newspaper, "To date we have raised in excess of $1 million in
gifts and commitments for the Katula Endowed Chair. The deep feelings DePauw alumni have for Ted are reflected in the way they quickly responded to the opportunity to pay tribute to him in this way. He is truly an institution here."
The text points out the major gift made to the fund by 1986 DePauw graduate Anthony J. de Nicola, and describes how Katula was honored at the 2005 event by friends including Phil Eskew Jr. '63, Dan Quayle '69, Mark Rolfing '71 and Jack Nicklaus.
Access the complete story, "DePauw honors Katula for contributions," at the Vindicator's Web site.
Back