Alumni Reunion Weekend Attendees Will Receive New DVD, 'Here's to DePauw'
May 29, 2008
May 29, 2008, Greencastle, Ind. - Those who return to the DePauw University campus for Alumni Reunion Weekend 2008 will leave with great memories and a commemorative DVD. All attendees of the June 11-15 event will receive a free copy of "Here's to DePauw," a disc that's been created especially for alumni of the University. With a total running time of more than four hours, the DVD includes an array of vintage films and photo galleries that celebrate DePauw's long history and the legacies and traditions that are cherished by alumni.
The DVD was created by Ken Owen '82, executive director of media relations, using the resources of his office and DePauw's Archives. Dian Phillips, director of publications, designed the artwork. The new disc follows "Celebrating Our Legacy," which was distributed at last summer's reunion weekend.
Key assistance was provided by Projesh Banerjea, a May 2008 graduate of DePauw, who created the disc's menus. "In addition to being an extremely talented and bright young man, Pro is a joy to work with," Owen says. "He took time in the week before final exams to help with this disc, which was quite a sacrifice, and did a marvelous job."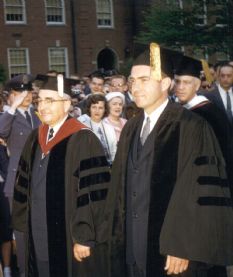 The disc's contents include:
DePauw's Centennial - rarely seen film from the June 1937 celebration has been combined with recently-recorded narration by John Baughman '48, professor emeritus of history, in a feature created by Owen for the new DVD.
Blue Print for Tomorrow - an admission and development film from 1958, featuring President Russell J. Humbert. Shot in color, it includes footage of Vice President Richard Nixon's visit, a portion of the commencement procession and address by British Prime Minister Harold Macmillan, Little 500, Old Gold Day, and a variety of campus scenes. This is a recently-discovered complete print of a film which appeared in truncated form on last summer's DVD, under the title DePauw Today.
Kinescope of Harold Macmillan's Commencement Speech - as carried by network television in June 1958.
Second Design for a Decade - a development film from 1973, hosted by then-President William E. Kerstetter, showcasing the new Julian Science and Mathematics Center and providing a look at early construction of the Performing Arts Center.
1977 Monon Bell Halftime Show - DePauw's Marching Band, under the direction of Dan Hanna and accompanied by the Tiger pom-pon squad, entertain a national television audience.
Inaugural Address of President Robert G. Bottoms - the 1986 remarks by Dr. Bottoms, who is stepping down from the presidency this summer after leading DePauw for 22 years.
90 "Monon Memories" - clips for every football battle between DePauw and Wabash College from 1918 through the thrilling 2007 contest.
Reunion Photo Galleries for every class celebrating a reunion this summer, beginning with the Class of 1933 through the Class of 2003. There are more than 1,400 images in all.
Recent Campus Highlights - including clips of Ubben Lecturers such as Mikhail Gorbachev and Tony Blair; the women's basketball team's national 2007 championship; the news conference introducing DePauw's nineteenth president, Brian W. Casey; and much more.
Alumni Reunion Weekend is set for June 11-15, and the 2008 event will include new entertainment and activities, as well as remarks by Dr. Casey. Learn more, and find online information on events and attendees, in this previous story.
Back