Two From DePauw Cited in 'Why I Love My Job' Contest
May 15, 2008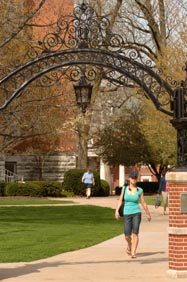 May 15, 2008, Greencastle, Ind. - Bonner Scholars at DePauw University "are tutoring children in local schools, serving as Big Brothers/Big Sisters, helping pets get adopted from animal shelters, assisting patients at the hospital, working to raise awareness of social justice issues, and much more," Jean A. Everage, assistant director of the Bonner Scholars program at DePauw, tells the Indianapolis Star. Everage and Duane S. Nickell, a physics teacher at Indiana's Franklin Central High School and 1980 graduate of the University, are honorable mention winners in a newspaper contest, "Why I Love My Job - Education."
Everage notes that DePauw's 70 Bonner Scholars Bonner students "perform 10 hours of community service per week during the school year, plus two full-time summer internships. Serving as an advisor and mentor to these amazing students has enriched my life in so many ways. While accompanying students on service trips, Ive helped repair homes damaged by hurricane flood waters, tutored children in inner-city schools, worked in Chicago homeless shelters, and played Simon Says with kids at youth centers."
She points out that many Bonner Scholars travel abroad and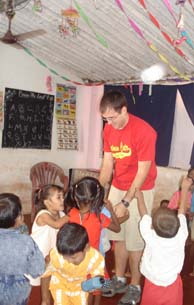 continue their outreach efforts while away from home. "Many of our graduates continue working in the nonprofit sector as professionals, and most continue to serve their communities in some way. We often hear complaints about the youth of today, but my students prove we have reason to be optimistic about the future," Everage declares.
Nickell's submission offers a Letterman-esque "top ten list" detailing the reasons he finds his job so appealing.
Access the essays at IndyStar.com.
DePauw students and alumni graduates have a long and distinguished history of community service. Approximately 70% of current students engage in service projects, and those efforts again earned the University a place on the President's Higher Education Community Service Honor Roll.
Back