Alex Kondonassis '52 Joins U of Oklahoma's 'Seed Sower Society'
May 14, 2008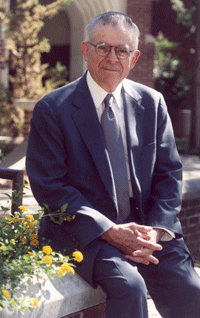 May 14, 2008, Greencastle, Ind. - "To quote a credit card advertisement for Dr. K., 50 years of teaching and service to the university is priceless," says University of Oklahoma President David Boren of Alexander Kondonassis, a 1952 DePauw University graduate, who is retiring after serving OU for 50 years as professor of economics. "We so deeply appreciate him and he so richly deserves that recognition.
An article in today's Oklahoman reports, "At his retirement reception this month, Kondonassis became the only member of the exclusive Seed Sower Society who has not donated at least $1 million to OU. Boren said an exception was made because the professor gave much more -- 50 excellent years."
James S. Tyree writes, "Kondonassis was born and raised in Greece. After one year at the University of Athens, he accepted a full four-year scholarship from DePauw University in Indiana. His first teaching job was at Indiana University, which he enjoyed. But when OU called, Kondonassis decided to listen even though Indiana's economics department was larger and more established. 'I decided to take a chance to help develop a department that was small but I thought the potential was substantial.'"
"The things that kept me here is, number one, I like the people, and number two, OU has been very nice to me, Kondonassis tells the newspaper.
Access the story at the Oklahoman's Web site.
Learn more about Alex Kondonoassis in this previous article.
Back