Pair of Golfers Earn All-America Honors
May 15, 2008
May 15, 2008, Greencastle, Ind. - DePauw seniors Kristen Kriegshauser and Ali Murtaugh have been selected to the National Golf Coaches Association Division III All-America team.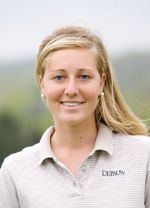 In a presentation last evening at the NGCA Awards Banquet in Waterloo, Iowa, Kriegshauser (pictured right) was named to the all-America Second Team, while Murtaugh was an honorable mention selection. Both were all-Great Lakes Region honorees as well.
An honorable mention all-America selection in 2007, Kriegshauser posted an 80.3 stroke average this season prior to this week's NCAA Division III Championships including seven top 10 finishes in 10 tournaments.
She tied for second at this year's Southern Collegiate Athletic Conference Championships for her fourth straight all-conference honor.
Murtaugh (pictured left) was an honorable mention all-America choice in 2006 and a second team selection last year and entered this week's Division III Championships with an 80.6 stroke average this season and an 80.8 career average.
She finished in the top 10 in seven of 10 tournaments this year including a fourth-place finish at the SCAC Championships for her fourth straight first team all-conference honor.
Back