UNRWA Chief Karen Koning AbuZayd '63 Speaks at Princeton
May 6, 2008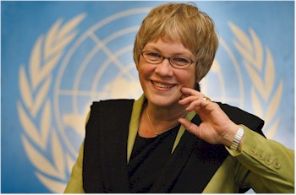 May 6, 2008, Greencastle, Ind. - Karen Koning AbuZayd, commissioner-general of the United Nations Relief and Works Agency (UNRWA) and 1963 graduate of DePauw University, will deliver the fifth annual Edward W. Said '57 Memorial Lecture at Princeton University tonight. AbuZayd will discuss "Palestine Refugees: Exile, Isolation and Prospects."
An announcement notes, "AbuZayd joined the U.N. Relief and Works Agency in 2000 as deputy commissioner-general, concentrating on providing emergency and employment assistance to victims of the crisis in the West Bank and Gaza. She was appointed commissioner-general in 2005 and, from her base in Gaza, helps to oversee the education, health, social
services and microenterprise programs for 4.4 million Palestinian refugees. AbuZayd began her humanitarian career at the Office of the U.N. High Commissioner for Refugees, where she worked for 19 years in Sudan, Namibia, Sierra Leone, South Africa and Bosnia."
Read more by clicking here.
Karen Koning AbuZayd delivered the commencement address to DePauw's Class of 2007 last May. Learn more about her in this previous story.
Back