Retiring Prof. Bob Newton Reflects on Near-Record 52 Years as DePauw Faculty Member
May 17, 2008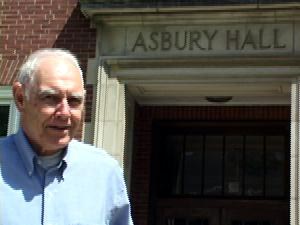 May 17, 2008, Greencastle, Ind. -

[Download Audio: "Prof. Bob Newton on His Retirement" - 149kb] "I didn't envision staying that long," says Robert D. Newton, professor of philosophy at DePauw, who is retiring after serving 52 years on the University's faculty. "I kept saying to myself it's easier to teach another year than to decide what to do with the books" that fill his office, jokes Newton, Blair Anderson and Martha Caroline Rieth Professor of Applied Ethics.
According to DePauw's Archives, Dr. Newton's service to DePauw is the third-longest of any faculty member in the University's 171-year history. Henry Longden spent 54 years on the DePauw faculty (1881-1935), but records suggest he may not have been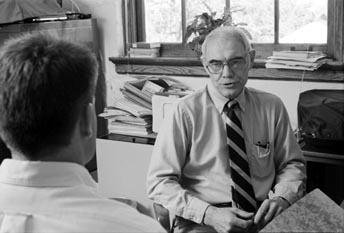 actively teaching during his final four years. Edwin Post taught Latin at DePauw for 53 years (1879-1932).
"Bob Newton has touched a great many lives during more than a half century on the DePauw faculty, and we commend him for his dedication to his students and the University," says Robert G. Bottoms, who is stepping down as president of DePauw after 22 years. "I have tremendous respect for Bob's scholarship and his role as a strong faculty voice over the years. The DePauw family wishes Bob and his wife, Ann, the very best in their retirement and are confident they'll remain engaged in the life of the University."
After receiving his Bachelor of Arts degree from Yale in 1950, Dr. Newton studied at the Union Theological Seminary and earned his Bachelor of Divinity degree there in 1953. Newton received his doctorate from Columbia
University in 1960.
Newton arrived at DePauw in 1956 and fondly recollects one of his first students, Dave Crocker '59.

[Download Audio: "Student Engagement" - 696kb]�"I can remember him standing up -- this was on the third floor of Asbury, in the middle room, 302, I think -- and he said, 'Professor Newton' -- he's a freshman now -- 'Would you please tell me the difference between metaphysics and ontology.' You know, this is a kind of inquiring mind and insightful mind that I think is very interesting. And I think we have students perhaps all through the years at that level of interest and pursuit of ideas, maybe an attempt to impress the professor with their questions," Newton said with a smile.
Today, Dr. David A. Crocker is Senior Research Scholar at the Institute for Philosophy and Public Policy and the School of Public Policy at the University of Maryland.
When the Prindle Institute for Ethics was dedicated last fall, Dr. Newton was approached by his former student R. David Hoover, a 1967 graduate of DePauw who is CEO of Ball Corporation. Four decades after the fact,

[Download Audio: "Faculty-Student Interaction" - 361kb] "He reminded me of the fact that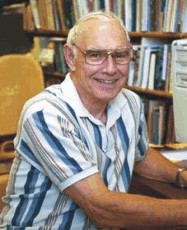 he had been in my basement making a telescope, and I'd helped him grind the mirror and put it into the equitorial stand. He said that he was so proud that he could converse with his technicians; he could talk about the Foucault Test for the proper curve on the mirror."
The professor -- whose Biomedical Ethics class has impacted two generations of future doctors, nurses and other medical professionals -- declares, "I like teaching students and engaging them with controversial ideas in small class discussions." He's seen several changes since arriving at DePauw, which has become far more diverse in recent years and boasts a faculty

[Download Audio: "Within and Without" - 645kb] "not focused on, but certainly more oriented toward their academic disciplines and engaging with colleagues across the nation." Newton says "research and professional relationships are more stressed and more rewarded than in the old days," recalling that his early years at DePauw included regular teaching loads of four courses per semester with 80 to 90 students in each class. "Your work was primarily work engaging with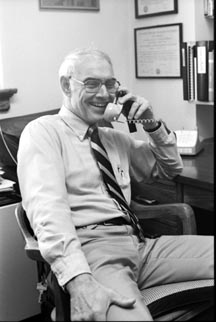 the students who were sitting there before you," he recalls. "And I think now, many faculty members think that part of their responsibility is not only to look within, but to look without."
The University has also "moved toward the smaller class, (with) more interaction between the faculty member and the individual students in the class." He says,

[Download Audio: "On Class Size" - 662kb] "You hear about schools even comparable to ours -- Kenyon or Grinnell -- and maybe they'll have a large class of 80 or 90. The only time I had a class of 80 or 90 was back in the old Basic Beliefs lecture one day a week" when a large group would gather for the talk but even then smaller clusters of 20 or so would meet for class.
Dr. Newton says his discipline has moved away from a study of the philosophy of religion to analyzing "the practices and the cultural involvement of religion in various societies in the world. There used to be an argument that courses in religion would either be theological studies or would be history of religion and that kind of distinction became a division. I think nowadays a lot of the way in which religion is taught is not so much the intellectual side but the way in which it integrates with culture," he says.
At a recent reception honoring him, Dr. Newton was presented with a book filled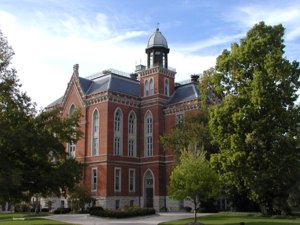 with testimonials from his colleagues and former students.

[Download Audio: "Awed" - 249kb] "I guess I'm awed," by the response he's received, Newton exclaims, adding with a chuckle, "I haven't really believed it. I've looked at some of the things that people have said here -- that's not me that they're talking about."
Newton says the reactions leave him with

[Download Audio: "Delight" - 89kb] "a sense of satisfaction and, not pride so much as delight to know there's a group out there like that."
World travel with his wife will keep Bob Newton active in retirement, as well as his plans to read.

[Download Audio: "Retirement Plans" - 239kb] "I'm going to explore some topics that I'm interested in, and that means getting back into some of the philosophical theology that I was interested in long ago."
Dr. Newton is ignoring another of his retirement "rules."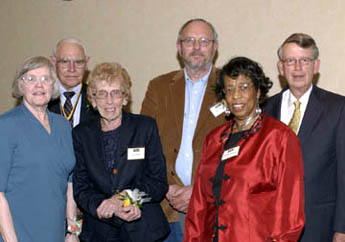 He had vowed that he would not step down from teaching until he could no longer climb two stairs at a time. Recently the educator (who arrived for this interview by bicycle) challenged Andrea Sununu, professor of English, to scale three stairs with one step, which they both did,

[Download Audio: "Newton on Stair-Climbing" - 547kb] "but it was a little bit of a struggle," he chuckles.
This year's other retiring faculty members are: David W. Herrold, professor of art; Martha M. Rainbolt, Raymond W. Pence Professor of English; Ken Bode, Eugene S. Pulliam Distinguished Visiting Professor of Journalism, whose thirteen-year career included overseeing development of the Center for Contemporary Media; Delores "Dee" J. Seketa, supervisor of laboratories with rank of instructor in biology; and Yvonne C. Williams, Hampton and Esther Boswell Distinguished University Professor of Black Studies. All will be recognized at tomorrow's 169th commencement.
Back