Sunday's Forecast Sunny & Windy for 169th Commencement
May 16, 2008
Also: 2008 Commencement Web Page; Link to Live Webcast; Order Your Commencement DVD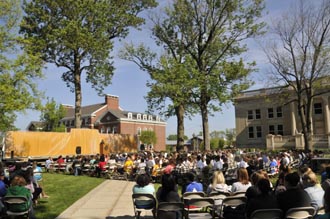 May 16, 2008, Greencastle, Ind. - A blue, cloudless sky greeted DePauw's Class of 2008 this morning as they gathered for a run-through of Sunday's commencement exercise. Approximately 590 undergraduates will receive their diplomas in a ceremony scheduled to begin at 1 p.m. on the lawn of historic East College.
UPDATE 5/18 9:30 a.m.: The latest forecast calls for mostly sunny skies and windy conditions on Sunday afternoon with a 1 p.m. temperature of 61 degrees. The chance of precipitation is listed at 10% (bumping up to 20% at 4 p.m.), but 17 mile-per-hour winds are predicted. The outlook is regularly updated at the Weather Channel's Web site.
On Sunday, Posse Foundation founder Deborah Bial will provide the commencement address to graduates and be presented with the McNaughton Medal for Public Service. Three distinguished graduates of DePauw -- Carolyn T. Jones '58, George A. Purnell '71 and Douglas A. Smith '68 -- will receive honorary doctoral degrees at the ceremony. The event will mark the final commencement led by President Robert G. Bottoms, who is stepping down from the post after 22 years to lead the Janet Prindle Institute for Ethics.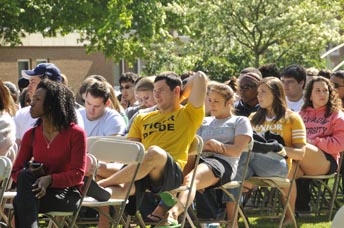 DePauw's 169th commencement will be webcast and can be seen live via the Internet anywhere in the world via this link. An archived version will be available within 24 hours after the ceremony is completed. Learn more about the webcast in this previous story.
Again this year, a limited edition DVD of DePauw's 2008 commencement will be professionally produced. The disc will include the complete program as well as a photo gallery and a variety of bonus material, including recent campus highlights. The DVD can be pre-ordered using this online form. Learn more about the project in this article.
For more information, visit the official 2008 commencement Web page.
Back