Keith Drops Heartbreaking NCAA Match
May 16, 2008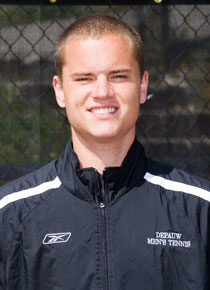 May 16, 2008, Lewiston, Maine - DePauw senior Kortney Keith went three sets in his NCAA Division III first round match with Cameron Taylor of Pomona-Pitzer, but suffered a defeat with the third set going to a tiebreaker.
After winning the opening set 7-6 (7-5), Keith dropped the second 6-3. Taylor then took the third set by a 7-6 score (8-6 tiebreak).
Keith finished with a 16-14 singles record on the season and an 87-34 career mark.
More information is available through the host site.
Back