"Charge Ahead," Olympic Gold Medalist Jackie Joyner-Kersee Tells DePauw's Class of 2000
May 20, 2000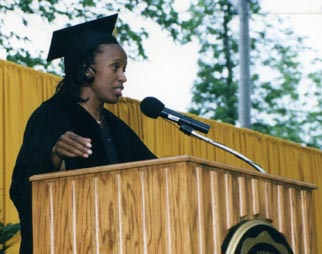 May 20, 2000, Greencastle, Ind. - "You know, most people talk about me changing the lives of people in the athletic arena," six-time Olympic medalist Jackie Joyner-Kersee told DePauw University's Class of 2000 this afternoon. "A race for me now is changing the lives of young people across the country. And I challenge you in that race, to continue to change the lives of young people across this country as well as across the world."
Joyner-Kersee, the world record-holder in track and winner of three Olympic gold medals, provided the keynote address at DePauw's 161st commencement. A total of 506 degrees were awarded in the ceremonies, which took place on the lawn outside historic East College.
In 1988, Joyner-Kersee started a community foundation that fosters the development of youth leadership programs across the United States.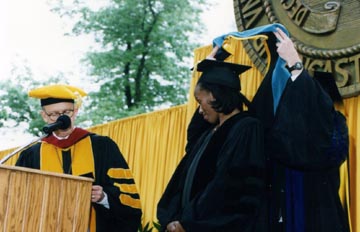 She continues to work to improve the lives of young people while pursuing a career as a businesswoman.
"Everyone is always asking, 'Can I race you?' Well, these are the rules," Joyner-Kersee told the graduates. She encouraged them to practice four personal rules: take responsibility, demonstrate accountability, do not compromise yourself, and aim for excellence.
The audience that filled the grounds also heard from P. Jacob Gross, recipient of the 2000 Walker Cup, which recognizes the DePauw senior judged to have contributed the most to the University during their time at DePauw.
DePauw presented Joyner-Kersee with an honorary Doctor of Public Service degree. Four other individuals were also awarded honorary degrees: Deborah Bial, founder of the Posse Program (Doctor of Public Service); Eugene L. Delves '50, a retired business executive who was a pioneer in the commercial use of computers and is heavily involved in community service (Doctor of Humane Letters); Phyllis C. Leppert '60, chief of the Reproductive Services Branch of the National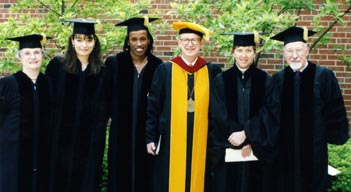 Institute of Child Health and Human Development, National Institutes of Health (Doctor of Science); Mary G. Meeker '81, managing director of Morgan Stanley in New York City and the firm's Internet and PC software analyst (Doctor of Letters).
"So I say to the graduates, charge ahead, continue to work hard, and know that today is the day of celebration but hard work will continue on," Joyner-Kersee stated. "As an athlete trying to be the very best, winning one gold medal wasn't enough. Once I won one, then I had to work even harder."
Access video of Jackie Joyner-Kersee's address at C-SPAN's website or below.
Back