John Tschantz '08 Named SCAC 'Pitcher of the Year'; Seven Named to All-Conference Team
May 22, 2008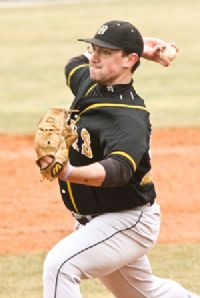 May 22, 2008, Greencastle, Ind. - "John Tschantz, a senior from Wilmette, was selected as the Southern Collegiate Athletic Conference pitcher of the year in voting by head coaches," notes Illinois' Wilmette Life. "Tschantz became the first DePauw University player to earn such an honor since the Tigers joined the SCAC in 1999."
The text continues, "He finished the season with an earned run average of 2.45 (third in the SCAC) in 80.2 innings and allowed opponents to hit just .235 against him. He finished second in the SCAC in wins with a record of 8-3,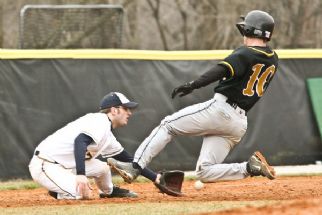 including a 4-0 mark and a league best ERA of 0.96 in conference only games. He posted a complete game win with a seven-hitter and 10 strikeouts against Southwestern in the conference tournament."
Access the item at the newspaper's Web site.
A total of seven members of the 35-11 Tigers earned all-SCAC honors. Joining Tschantz on the all-conference first team were outfielders Matt Kleine and Justin Weiner and designated hitter Mike Stout. Three Tigers earned honorable mention including catcher Jack Gavin and pitchers Jeremy Alland and Jack Gavin.
Learn more at the DePauw baseball team's official page.
(photos: Alex Turco)
Back