James Cooper Appointed DePauw's VP of Academic Affairs
May 25, 1983
May 25, 1983, Greencastle, Ind. - James L. Cooper, dean of the faculty at DePauw University, was today appointed to the new post of vice president of academic affairs. Dr. Cooper will become the University's chief academic officer with overall responsibility for the academic program, including curriculum and faculty personnel. The appointment is effective July 1.
"Jim obviously has the right combination of vision, intelligence, administrative skill and knowledge about DePauw and its potential and problems, and will become a fine academic leader," says President Richard F. Rosser. Cooper was recommended unanimously for the post by the University's search committee, Rosser notes.
Cooper joined DePauw's history department in 1964 after completing his undergraduate degree with Phi Beta Kappa honors at the College of Wooster. He received the M.A. and Ph.D. at the University of Wisconsin. He also taught in Ohio's public schools and at Oakland (Michigan) University.
Dr. Cooper's research and writing in the area of faculty development, student rating of teaching, and student development have made him a frequent lecturer and consultant to national and regional groups. He was deeply involved in the early 1970s in starting faculty development activities in the Great Lakes Colleges Association (GLCA) consortium and is implementing the program -- which is aimed at helping faculty members improve as teachers and scholars -- on the DePauw campus. Cooper headed DePauw's extensive faculty development program for three years before being appointed dean of the faculty in 1981.
The professor's own scholarly research has been supported by grants from the Ford Foundation, Danforth Foundation and the National Endowment for the Humanities. Cooper has conducted research on social stratification of Revolutionary New Hampshire through a comprehensive study of that state's colonial tax records. As a result of that work, he has become widely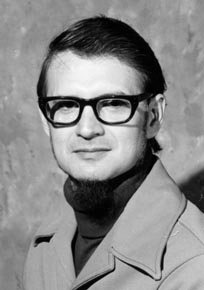 known for developing classroom applications of the computer in the social sciences.
Cooper has also been involved in industrial archaeology, and since 1979 has worked under grants from the Indiana Historic Preservation Office and the Historic American Engineering Record to complete an inventory of the historic industrial and engineering structures still extant in Indiana. An initial phase has been a photographic and descriptive inventory of all historic bridges in the state.
Jim Cooper has served as a visiting lecturer on the Cambridge University history faculty in Cambridge, England. He is a member of history and political science honoraries and in 1967 was elected by DePauw students to Gold Key membership in recognition of quality teaching and his contributions to campus life.
Back