Prof. James Cooper Named DePauw's Academic Dean
March 9, 1981
March 9, 1981, Greencastle, Ind. - James L. Cooper, professor of history and faculty development coordinator at DePauw, has been appointed academic dean at the University, effective July 1. Cooper succeeds Fred Silander, who became vice president of finance on February 1. Mildred Wills is serving as interim dean until Cooper begins his four-year appointment this summer.
A Phi Beta Kappa graduate of the College of Wooster, Cooper earned his M.A. and Ph.D. at the University of Wisconsin. He taught in Ohio's public schools and at Oakland (Michigan) University before joining the DePauw faculty in 1964. His specialty is American history.
Dr. Cooper was deeply involved in the early stages of Lilly Endowment-funded faculty development in the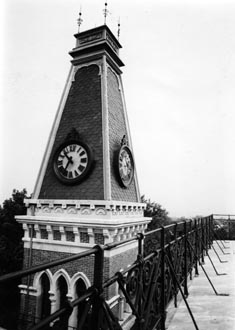 Great Lakes Colleges Association (GLCA). The program is aimed at helping faculty members improve as teachers and scholars. Because of his pioneering work in faculty development, he has been a national workshop leader in this field and for the past three years has headed DePauw's extensive faculty development program.
His own scholarly research has been supported by grants from the Ford Foundation, Danforth Foundation and the National Endowment for the Humanities.
Cooper was an adviser to the Fund for Improvement of Post-Secondary Education in 1977 and was a visiting lecturer on the Cambridge University history faculty. He also serves as director of the Historic America Engineering Record Survey of Industrial and Engineering Sites in Indiana. This project of photographing and identifying these sites is funded by the Indiana Department of Natural Resources.
Back