How Revolutionary Was the American Revolution?; Prof. James Cooper Seeks Answers
July 1, 1971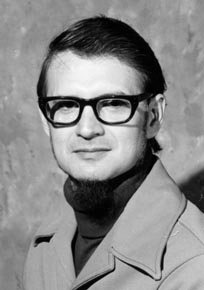 July 1, 1971, Greencastle, Ind. - Just how revolutionary was the American Revolution? That's one of the questions a DePauw University historian hopes to explore with the help of a $6,200 research grant from the National Endowment for the Humanities. The project by James L. Cooper, associate professor of history, is among those approved by Congress to commemorate the nation's upcoming bicentennial.
Digging through long forgotten 200-year-old tax assessments, tax inventories, names of colonial office holders and even church pew ownership records, Dr. Cooper expects to study the effects of the Revolutionary War upon the nature of community leadership in New Hampshire between 1750 and 1800. Cooper says he's trying to determine whether the removal of British power as a result of the Revolution really changed policy-making or policy-makers in New Hampshire.
The professor suggests the likelihood exists that the Revolution may not have touched the pre-war power structure in New Hampshire where it mattered most -- in the local communities. The Revolution may have achieved some specific or limited objectives, he suspects, rather tha "touching the springs of society."
Cooper has been in the attics, basements, barns and courthouses of cooperative New England ferreting out documents from Portsmouth to Concord. By sifting through information such as occupation, wealth, formal education, religious affiliation, family, geographic origin, and office holding, Cooper plans to describe the power structure of the various communities and explore whether the Revolution allowed much chance for new political and social mobility. He expects to learn how taxable wealth was distributed, the extent to which occupation and office holding were related, and whether the correlation between wealth and formal education changed as a result of the Revolution.
Professor Cooper has already devoted a master's thesis and three additional summers to this study. A member of the DePauw University faculty since 1964, he will be on sabbatical leave during the 1971-72 academic year to complete his research.
Back