Tigers Win Third Straight SCAC President's Trophy
May 22, 2008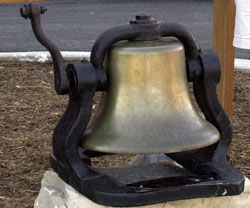 May 22, 2008, Greencastle, Ind. - After capturing three Southern Collegiate Athletic Conference spring championships and finishing second in three others, DePauw wrapped up its third straight SCAC all-sports trophy win and fourth in its 10 years in the conference.
DePauw totaled 902.5 points to runner-up Trinity's 860 points. Rhodes finished third, while Centre was fourth. Southwestern placed fifth followed by Sewanee, Colorado College, Hendrix, Millsaps, Oglethorpe and Austin.
The Tigers captured seven SCAC titles in women's cross country, field hockey, men's swimming, women's basketball, softball and men's and women's tennis. DePauw teams were second in five sports including men's cross country, women's swimming, women's golf and men's and women's track.
The trophy, a 300-pound bell donated to the conference in 1962 by the Norfolk and Western Railroad, is presented annually to the athletics program that accumulates the highest number of points towards the all-sports trophy and is displayed for one year on the campus of the winning school.
Photo: Marilyn Culler
Back