Three Straight: DePauw Again Earns SCAC's President's Trophy
May 22, 2008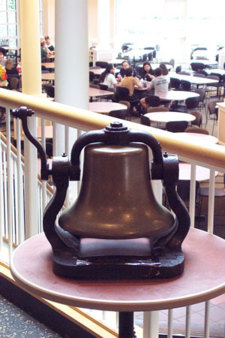 May 22, 2008, Greencastle, Ind. - "DePauw University, after earning spring sports titles in men's and women's tennis as well as softball, pulled away for a 42.5 point victory over second-place Trinity University in the race for the 2007-08 SCAC President's Trophy," begins an announcement from the Southern Collegiate Athletic Conference. "It is the third consecutive all-sports trophy win for the Tigers." DePauw totaled 902.5 points to runner-up Trinity's 860 points.
The statement adds, "All told, DePauw finished the 2007-08 season with seven team sports titles, including previous won championships in women's cross country, field hockey, men's swimming and diving and women's basketball."
The symbol of conference supremacy is the 300-pound railroad bell which was donated to the SCAC by the Norfolk and Western Railroad. This bell, the "President's Trophy", is a rotating award and
goes to the school with the best overall sports record for the year. (top photo: a file shot of the President's Trophy on display in DePauw's Memorial Student Union Building)
Read more by clicking here.
For comprehensive coverage of Tiger sports, visit the athletics home page.
Back