Prof. Kevin Howley Writes Book Review for Global Media Journal
May 24, 2008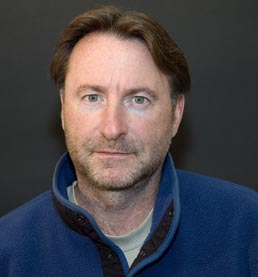 May 24, 2008, Greencastle, Ind. - Kevin Howley, associate professor of communication at DePauw University, contributes a book review to the latest issue of the Mediterranean edition of Global Media Journal. Dr. Howley offers a three-page analysis of Democratizing Global Media: One World, Many Struggles, which was edited by Robert A. Hackett and Yuezhi Zhao and published by Rowman & Littlefield.
Calling the book an "ambitious project," Howley notes that Hackett and Zhao "have assembled an international team of scholars and journalists whose unique perspectives contribute to a timely and revealing examination of the global struggle for communicative democracy ... In their introductory essay, the editors signal their intention to promote dialogue and debate
between communication scholars, cultural analysts, political scientists and others interested in the relationship between media and democracy. To that end, Zhao and Hackett's introduction places the current volume in ongoing debates over global communication and presents a convincing rationale for its interdisciplinary orientation."
Read the review in its entirety at GMJ's Web site.
Kevin Howley is author of Community Media: People, Places, and Communication Technologies. His work has appeared in the International Journal of Cultural Studies, Journalism, Social Movement Studies, and the Journal of Radio Studies.
Access a recent Bloomington Alternative op-ed by Professor Howley in this previous story.
Back