Americans "Starved" for Consensus-Building, Declares Lee Hamilton '52
May 25, 2008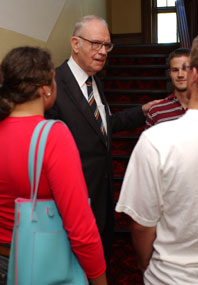 May 25, 2008, Greencastle, Ind. - "If you believe, as I do, that building consensus among competing factions is the only way to tackle the persistent challenges that threaten to hamstring our nation, then you have to be prepared to deal with one hard truth: It's extraordinarily difficult to do," writes Lee H. Hamilton. The veteran statesman and 1952 graduate of DePauw University offers an op-ed on the necessary but "Herculean task" of creating a climate of consensus. "Americans want their elected leaders to work across party lines," Hamilton declares. (at left: Lee Hamilton with DePauw students in historic East College)
"Over the past year or so, I've been asked on any number of occasions how two groups on which I served, the 9/11 Commission and the Iraq Study Group, managed to encourage men and women with partisan commitments to produce forward-looking policy ideas on two highly charged issues," continues Hamilton, who co-chaired both panels. "We did this in spite of a truly venomous partisan atmosphere in Washington and our keen awareness that powerful interests had much at stake in what we'd end up saying.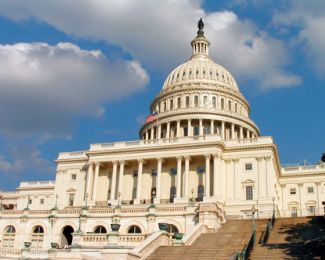 Admittedly, both groups were far less complicated than the Congress or a state legislature, where consensus has to be built on scores of issues, not just one. Yet the core principles of consensus-building, I believe, apply no matter how large the body."
The Democrat who spent 34 years in the House of Representatives notes, "The G.I. Bill, the Marshall Plan, welfare reform in the 1990s -- all took considerable bipartisan legwork to pass. As political scientist Paul Light concluded in his recent book about America's 50 greatest legislative achievements over the past half-century, these accomplishments 'reflect a stunning level of bipartisan commitment.'"
He concludes, "In the end, building consensus is straightforward. Work cooperatively, not confrontationally. Look at your colleagues as colleagues, not political adversaries. Agree on facts before you apply your ideology to policy. Take ample time to understand different views
and deliberate on where you're going. Search for areas of agreement, and do not exaggerate areas of disagreement. Get people focused on the national interest, not on partisan advantage. And decide from the get-go that you're going to reach an agreement, not use disagreement to score political points. I believe Americans are starved for just this sort of approach. Let us hope that our elected leaders are ready to give it a try."
Access the complete essay at the Web site of Indiana's New Albany Tribune.
Lee Hamilton recently wrote a column on "What We Owe Our Young People." It can be found via this previous story.
Back