Prof. Jon Cryer '61 Authors Second Edition of Time Series Analysis with Applications in R
May 30, 2008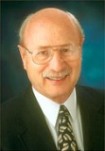 May 30, 2008, Greencastle, Ind. - Jonathan D. Cryer, professor emeritus in the University of Iowa's department of statistics and actuarial science and 1961 graduate of DePauw University, has co-authored the second edition of Time Series Analysis with Applications in R. Published by Springer, the book is co-authored by Kung-Sik Chan.
The book "presents an accessible approach to understanding time series models and their applications," states a publisher's summary. "Although the emphasis is on time domain ARIMA models and their analysis, the new edition devotes two chapters to the frequency domain and three to time series regression models, models for heteroscedasticty, and threshold models. All of the ideas and methods are illustrated with both real and simulated data sets."

Jon Cryer, who was a mathematics major at DePauw and earned his Ph.D. at the University of North Carolina, is a Fellow of the American Statistical Association and received a Collegiate Teaching Award from the University of Iowa College of Liberal Arts and Sciences. He is also the author of Statistics for Business: Data Analysis and Modeling, Second Edition, (with Robert B. Miller), the Minitab Handbook, Fifth Edition, (with Barbara Ryan and Brian Joiner), the Electronic Companion to Statistics (with George Cobb), Electronic Companion to Business Statistics (with George Cobb) and numerous research papers.
Learn more at the publisher's Web site.
Back