Wayne Glausser is Indiana's 'Professor of the Year'
October 10, 1989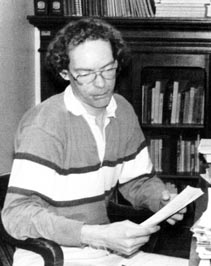 October 10, 1989, Greencastle, Ind. - "I try to challenge students; I am high," says Wayne Glausser, associate professor of English at DePauw University, who has been named Indiana's Professor of the Year. The award is presented by the Council for Advancement and Support of Education (CASE) as part of National Higher Education Week. CASE has recognized one faculty member in each state with the honor. The national professor of the year is J. Dennis Huston, professsor of English at Rice University.
"I'd much rather be too ambitious in how much we try to cover in a course or how sophisticated the ideas we discuss are," adds Dr. Glausser.
English literature of the period 1750-1850 is the professor's specialty, and he concentrates particularly on the works of William Blake. Glausser is also concerned with the relationship between philosophy and literature. Yet, he is equally at ease writing articles about popular culture, including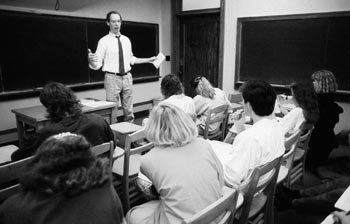 Paul Kantner and the rock group Jefferson Airplane, as well as detective novelist Dashiell Hammett.
"Students flock to Wayne's classes because they know they will find a professor who is both demanding and caring, a mentor who will unobtrusively push them to think freshly and critically about both familiar and unfamiliar subjects, to explore and articulate their ideas," says Walker Gilmer, professor of English, whose office is next to Glausser's. "Wayne's teaching strategies are so successful and the relationships with students he builds so exceptional that they regularly line up outside his office in hopes of getting into one of his classes before the registration process begins."
Glausser has written articles on a variety of topics, and students are quite likely to hear about those subjects in
their classes. "I don't believe that I need to separate my teaching from my research and writing because I like to introduce to my class the kinds of topics I'm working on," says the professor.
Wayne Glausser joined the DePauw faculty in 1980. He was named Outstanding Professor in the Humanities at the University for 1983-84, and his colleagues have awarded him sole responsibility for the Honor Scholar freshman seminar this year.
Glausser was awarded the B.A. degree with highest honors in literature from the University of California at Santa Cruz. He earned M.Phil. and Ph.D. degrees from Yale University, where he was the recipient of the Prize Teaching Fellowship, Mary Cady Tew Prize and Danforth Fellowship.
Back