Huffman Selected as National Team Coach
June 2, 2008

June 2, 2008, Greencastle, Ind. - DePauw head women's basketball coach Kris Huffman has been selected as a court coach for the 2008 USA Basketball Women's U18 National Team Trials, June 9-12 at the U.S. Olympic Training Center in Colorado Springs, Colo. The announcement was made today at the USA Basketball headquarters in Colorado Springs.
"It's an honor to be selected by USA Basketball as a trials court coach," Huffman said. "I'm looking forward to the opportunity to work with the other coaches as well as the athletes. I really enjoy working with young people, and I view this is as a chance to give something back to the game of basketball."
The U18 trials will feature 35 U.S. hopefuls, born on or after Jan. 1, 1990, competing for one of 12 roster spots on the 2008 USA Women's U18 National Team.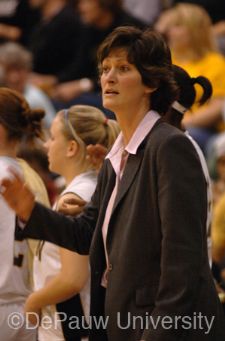 Following trials, the USA Basketball Women's Collegiate Committee is expected to announce the 12-member roster, and the team will return to Colorado Springs for a July 10-20 training camp.
The team will train at the USOTC from July 10-16 and in Washington, D.C., July 17-20. The 2008 FIBA Americas U18 Championship for Women will be played July 23-27 in Buenos Aires, Argentina.
The all-time winningest coach in DePauw women's basketball history, Huffman takes on her selection as a USA Basketball trials court coach following a 28-4 season that saw DePauw reach the 2008 NCAA Division III Tournament quarterfinals for a third consecutive year.
Overall, Huffman has completed 15 seasons at DePauw (1993-94 to present), compiling a 332-86 record. Among all-time coaches with at least 10 years of Division III head coaching experience, Huffman's .794 winning percentage ranks ninth.
Under Huffman's guidance, the Tigers have reached nine NCAA Division III tournaments, including five consecutive trips since 2004. Perhaps her most notable season came in 2006-07, when the Tigers captured the NCAA Division III national championship and a program record for wins with a 31-3 tally.
The 2002 Women's Basketball Coaches Association NCAA Division III Coach of the Year, Huffman also has been honored as the district coach of the year four times and the conference coach of the year eight times.
Carol Owens of Northern Illinois is the head coach for the trials and is assisted by Joe McKeown of George Washington University and Terri Mitchell of Marquette University. Seth Goodman of Monroe College joins Huffman as the other court coach.
Back