Economics Prof. Bert Barreto Coming to DePauw from Wabash
May 14, 2008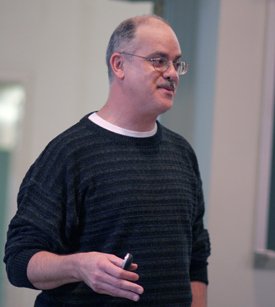 May 14, 2008, Greencastle, Ind. - "I love my students, but I know, for me, it's the right thing to do," says Humberto "Bert" Barreto. After 23 years of teaching economics at Wabash College, the professor is joining the faculty of DePauw University, 26 miles away. "I have another 15 to 20 years, and I hope I can do some good things down there. I hope I can be a part of some good changes there, like happened here," Dr. Barreto adds.
Barreto was honored for his service to Wabash at a going-away reception yesterday on the Crawfordsville campus. Fellow Wabash economics professor Frank Howland called Baretto, "a terrific colleague who has taught us how to teach."
In 1995, Barreto received Wabash's McLain-McTurnan-Arnold Award for Excellence in Teaching. He received his B.A. from New College in Sarasota, Florida, and his Ph.D. from the University of North Carolina - Chapel Hill. His areas of expertise include econometrics, history of economic thought, and law and economics.
"He's been a mentor to others in the department, and we've
learned a great deal from him watching his interaction with students and his careful attention to detail," Howland said. "We hope to continue to learn from him, only from a little farther away."
Read more by clicking here.
Back