American Baby Cites Work of Prof. Matt Hertenstein
June 5, 2008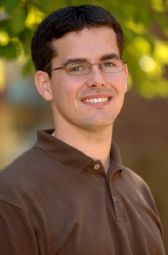 June 5, 2008, Greencastle, Ind. - "It was the kind of gash that Matt Hertenstein knew would need more than just a bandage," begins an article in the June edition of American Baby. "His 22-month-old son howled in pain, but it was another emotion that Hertenstein saw on the boy's face: fear. 'It's okay to be scared -- we're here to keep you safe," Hertenstein told his toddler. Hertenstein, a psychologist and lead researcher at the Infant Discovery and Emotion Lab at DePauw University, in Greencastle, Indiana, knew that by comforting his son he was also teaching an important lesson in empathy."
The article "Good Mood, Bad Mood: How to help kids understand and deal with their emotions," by Cynthia Ramnarace, includes tips from several other child development experts and offers
milestones that parents can look for their child to reach at certain points.
The issue is available on newsstands now, or visit the magazine online.
Research conducted by Matt Hertenstein, assistant professor of psychology, and his students at DePauw has previously been featured in Prevention magazine, featured on the Canadian Broadcasting Corporation's program, The Nature of Things, in Sunrise magazine and the Toronto Sun, and on National Public Radio.
"Decades of research has been done on the face and the voice and the distinct emotions that they communicate," reported NPR's Michelle Trudeau. "But touch had been relatively neglected by researchers until Hertenstein stepped in and began his experiments."
Visit Dr. Hertenstein's Emotion Lab online by clicking here.
Source: American Baby
Back