Prof. Ralph Gray Co-Authors Economic Development of the United States
July 3, 1969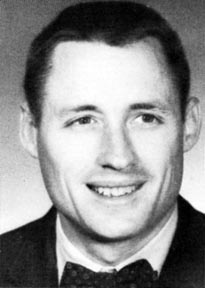 July 3, 1969, Greencastle, Ind. - College students throughout the United States will be using a new economics textbook co-authored by DePauw University's Ralph Gray. The 37-year-old economics professor has collaborated with John M. Peterson of the University of Arkansas on Economic Development of the United States. The book has just been published by Richard D. Irwin, Inc.
Dr. Gray, who was named DePauw's "best teacher" in 1967 by a student organization, is a consulting fiscal adviser to Arkansas Governor Winthrop Rockefeller. Gray formerly served as director of Arkansas' Economic Development Program while on leave from DePauw.
The new book is designed as a basic text for undergraduate courses in American economic history. It gives freshmen or non-majors an appreciation of the national economy and of economic analysis in action.

The book has four sections: preparations for growth (1492-1783), start of national growth (1783-1860), sustained rapid growth (1860-1920), and the strains of continuing rapid technological change in the contemporary economy (1920-present).
Ralph Gray joined the DePauw faculty in 1965 after teaching at Ohio University and the University of Arkansas. He is a Danforth Fellow and received his doctorate from Syracuse University. He did his undergraduate work at Ohio University.
Back