Bacon Sizzles as Wabash Claims Annual Football Rivalry Game, 26-13
November 11, 1916
November 11, 1916, Indianapolis, Ind. - DePauw's "never-give-up" spirit was in evidence throughout today's annual football battle with Wabash College, but the men from Crawfordsville prevailed at Washington Park, 26-13. The Little Giants were led by fullback Francis Bacon who scored three touchdowns over the course of the afternoon.
Wabash took a 7-0 lead in the first quarter and had a 13-6 advantage at halftime. The score was 19-13 in favor of the Little Giants after three stanzas.
With the loss, DePauw falls to 4-3 on the season, while Wabash improves to 5-2.
View a "Monon Memory" of the 1916 DePauw-Wabash contest here:

[Download Video: "1916 Monon Memory" - 2601kb]. A complete roster of the video clips -- written, produced and narrated by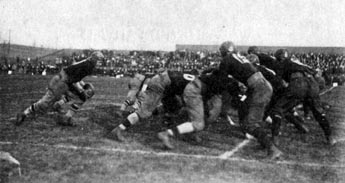 1982 DePauw graduate Ken Owen -- can be accessed by clicking here.
For comprehensive information on one of college football's oldest and greatest rivalries -- which in 1932 introduced a 300-pound locomotive bell as the victor's prize -- visit the Monon Bell Web page.
Back