Obama Should Steer Clear of Clinton in VP Search: Prof. Ken Bode
June 6, 2008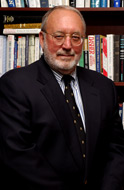 June 6, 2008, Greencastle, Ind. - "Bill Clinton is very much in this game and will continue to be if Barack Obama yields to the pressure and puts Hillary Clinton on the ticket," asserts Ken Bode, Eugene S. Pulliam Distinguished Visiting Professor of Journalism at DePauw University, in this morning's Indianapolis Star. "In the early going, back when Hillary seemed the invincible frontrunner coasting on an aura of inevitability, the question was, 'How will she use Bill?' Now that we've watched the former president stumble through the primary season, his vaunted political skills plainly eroded, his temper skin deep, the question is 'What would President Obama do about Bill?' Is the Oval Office big enough for three people who think they should be president?"
Dr. Bode says a Vanity Fair article by Todd Purdum, which led the former president to use
a few choice nouns to describe the writer, asks questions about Bill Clinton's "associations as he circles the globe raising money for his foundation and presidential library," records the Clintons have refused to release. "We know, for example, that the Saudi royal family and the governments of Dubai, Kuwait and Qatar have given millions. There are other private contributions in the six-figure range from all over the world; we just don't know from whom. We do know that Clinton accompanied Canadian mining magnate Frank Giustra to Kazakhstan for a private dinner with President Nursultan Nazarbayev. Two days later Giustra's company bought into three uranium projects controlled by the Kazakhstan state agency. Shortly thereafter the Clinton Foundation received a $31 million donation from Giustra, with a promise of $100 million more."
Bode notes, "Clinton
spokesmen offer the benign explanation that Clinton is a much-loved former president and these contributions are merely expressions of gratitude. More likely, these early contributions are the equivalent of playing the presidential futures market ... I see them as investments, through Bill's enterprises, to gain influence in a future Hillary presidency."
The professor, former senior political analyst for CNN, concludes, "Before Obama agrees even to consider Hillary Clinton as a running mate, he must demand full access to the confidential contributor lists of Bill Clinton's foundation and library. Sometime during the campaign these records will become public; someone will dig them out. If Hillary is on the ticket and Bill Clinton is as Purdum describes, the ensuing scandal could sink the Obama candidacy."

Access the complete op-ed at College News.org.
Last Friday, Ken Bode wrote of Sen. John McCain's opposition to a proposal that would increase college tuition benefits for Iraq war-era troops. Access the column via this previous story.
Source: Indianapolis Star
Back