"Live Like You Love the Ocean," Urges J. Nichols '89
June 8, 2008
June 8, 2008, Greencastle, Ind. - "Everywhere I go, people ask: 'What one thing can I do for the ocean?,'" writes Wallace J. Nichols in the San Jose Mercury News. Dr. Nichols, a 1989 graduate of DePauw University, is a senior scientist at Ocean Conservancy and a research associate at California Academy of Sciences. In an op-ed in the California newspaper, he asserts, "our ocean is in serious trouble."
Nichols, who majored in biology at DePauw, states, "As an oceanographer, I'm quite familiar with the relentless bad news. Keeping up-to-date on it all is a part of my job. Since the ocean holds the majority of life on Earth and governs our air, our climate and our food, that means we're in real, big trouble. As daunting as it appears, the ocean crisis can be boiled down to three problems: we've put too much in, we've taken too much out, and we are wrecking the edge."
The marine researcher advises people to "Live like you love the ocean." Says Nichols, "Living like we love the ocean means putting less in, taking less out and protecting the ocean's edge where so much life lives. Less in. Less out. Protect the edge. Simple."
Nichols, who goes by his middle initial, is president of the International Sea Turtle Society and is seen in Leonardo DiCaprio's documentary, The 11th Hour. He says individuals can make a difference by purchasing "ocean-friendly" products, selecting seafood that has been caught sustainably, vote for candidates who are committed to improving the environment, and "vacation like you love the ocean. This summer, hike in a coastal park or visit an aquarium. Go on a sea turtle or whale watch where your visit supports conservation. Surfing, kayaking and snorkeling are all ocean-friendly activities. Why not join Ocean Conservancy's International Coastal Cleanup and make a day of it with your friends?"
Nichols' op-ed concludes, "We are entering a decade of progress in the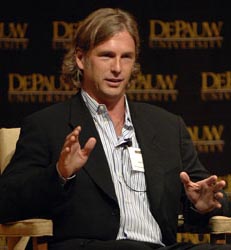 culture of conservation and sustainability. Millions who care deeply about the ocean are joining to transform our relationship with the sea -- they are starting a sea change. Each of us must be part of this ocean revolution -- each in our own way, each as part of a connected whole."
Read the complete column at the Mercury News' Web site.
J. Nichols was one of nine "eco-all-stars" cited in the March 2008 issue of Outside magazine. He authored an April op-ed on the need for "EcoDaredevils," and was one of the participants in DePauw Discourse 2007. A summary of his remarks -- including video and audio clips -- can be found in this previous story.
Back