Rebuilding Refugee Camp to Cost $445 Million: UNRWA's Karen Koning Abuzayd '63
June 10, 2008
June 10, 2008, Greencastle, Ind. - "We have some indications of pledges -- $5 million, $10 million -- but we'll need much more," says Karen Koning Abuzayd, commissioner-general of the United Nations Relief and Works Agency (UNRWA) and 1963 graduate of DePauw University. Abuzayd's agency has determined that rebuilding the Nahr al-Bared Palestinian refugee camp and six surrounding Lebanese communities, which were heavily damaged in fighting last summer, will cost about $445 million in a project that will take two years or longer to complete.
Abuzayd is quoted in a story in Lebanon's Daily Star, which notes she visited the camp Sunday and met with the Palestinian refugees. "They're not complaining too much," she says. "They'd like more electricity. They'd like more water. They'd like a job. They're being wonderful, the refugees. We always say the Palestinians are extraordinarily resilient."
Michael Bluhm writes, "The documents released on Monday said reconstruction would commence 'at the latest' in January next year. The camp --officially home to more than 31,000 Palestinians -- was largely destroyed in the three-month battle last summer between Fatah al-Islam militants and the Lebanese Armed Forces (LAF)."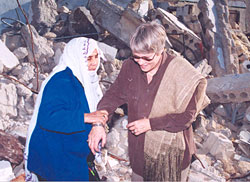 The story details ongoing UNRWA efforts to provide relief to the refugees. At a June 23 conference in Austria, donors will be asked to contribute funds to the rebuilding effort.
Read the complete article at the newspaper's Web site.
Karen Koning AbuZayd delivered the commencement address to DePauw's Class of 2007 last May. Learn more about her in this previous story.
Back