Bishop Matthew Simpson, University's First President, Eulogizes President Lincoln
May 4, 1865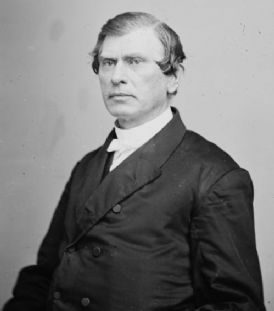 May 4, 1865, Springfield, Ill. - "We ask why this wonderful mourning, this great procession?," stated Bishop Matthew Simpson, former president of Indiana Asbury, as he delivered the oration at the funeral of U.S. President Abraham Lincoln today. "The great cause of this mourning is to be found in the man himself. Mr. Lincoln was no ordinary man. I believe the conviction has been growing on the nation's mind, as it certainly has been on my own, especially in the last years of his administration, that by the hand of God he was especially singled out to guide our government in these troublesome times," added Simpson, a close and trusted friend of the president.
Matthew Simpson led Indiana Asbury (which became DePauw University in 1884) from 1839 to 1848 and was elected a bishop of the Methodist Church four years later. He was chosen over every other minister in the United States to deliver the remarks at this solemn occasion.
"He made all men feel a sense of himself -- a recognition of individuality -- a self-relying power," Bishop Simpson told the mourners who gathered in President Lincoln's hometown of Springfield, Illinois. "They saw in him a man who they believed would do what is right, regardless of all consequences. It was this moral feeling that gave him the greatest hold on the people, and made his utterances almost oracular."
The bishop concluded, "Chieftain, farewell! The nation mourns thee. Mothers shall teach thy name to their lisping children. The youth of our land shall emulate thy virtues. Statesmen shall study thy record and learn lessons of wisdom. Mute though thy lips be, yet they still speak. Hushed is thy voice, but its echoes of liberty are ringing through the world, and the sons of bondage listen with joy.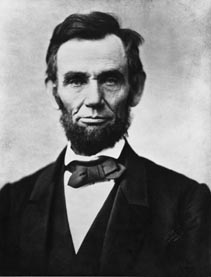 Prisoned thou art in death, and yet thou art marching abroad, and chains and manacles are bursting at thy touch. Thou didst fall not for thyself. The assassin had no hate for thee. Our hearts were aimed at, our national life was sought. We crown thee as our martyr, and humanity enthrones thee as her triumphant son. Hero, martyr, friend, farewell."
Access the complete address by clicking here.
Today's service ends a period of mourning that has continued since the president's death on April 15. Six days later, a funeral train left Washington, D.C., and retraced the 1,654 mile route Lincoln had traveled as president-elect in 1861 (Chicago was added to the route and Pittsburgh and Cincinnati were deleted).
Learn more about Bishop Matthew Simpson in this previous story.
Back