2008 Commencement DVD is Now Shipping; Order Yours Today
June 17, 2008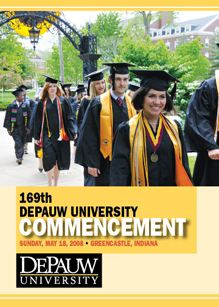 June 17, 2008, Greencastle, Ind. - The limited edition, commemorative DVD of DePauw University's 169th commencement -- which was held on May 18 -- is now shipping and should arrive in mailboxes over the next few days. Copies of the disc are still available for $25 for the first copy, and $10 for each additional DVD being sent to the same address. You can access an online order page by clicking here. (at left: cover art of the DVD)
In addition to the complete commencement program, which lasted a little over two hours, the disc contains a photo gallery containing more than 300 images from graduation weekend. Other bonus clips include campus highlights of the past four years; "Monon Memories" of the last four football battles with Wabash College and the music video for The Ballad of the Monon Bell; a newly-produced feature on the history of the Timothy and Sharon Ubben Lecture Series; and vintage films from the DePauw Archives, including the 1963 admission film, "Pursuing the Ideal;" footage showing the 1941 construction and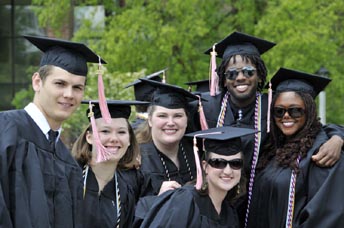 dedication of Blackstock Stadium; and a look at the 1933 Tiger football team, which was unbeaten, untied and unscored upon.
The four-camera production includes the entire program, including video of each graduate receiving his or her diploma. As in past years, the DVD's menu allows you to quickly access the spot in the program you want to see. If you're looking for a graduate whose last name is Smith, for instance, you click on the letter 'S' in the menu, you're immediately taken to the first person whose last name begins with the letter 'S' receiving his or her diploma. Users can also jump to specific speeches, or watch the program from beginning to end.
DePauw has now produced 16 DVDs: the 2002-2008 commencements, the last seven Monon Bell Classics, and two special discs -- "Celebrating Our Legacy" and "Here's to DePauw" -- which have been distributed over the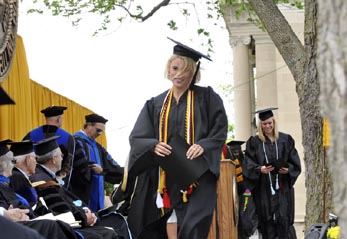 past two Alumni Reunion Weekends. All of the discs were mastered by Ken Owen '82, executive director of media relations at DePauw. The new commencement DVD features art by Dian Phillips, director of publications, and still images by Richard Fields, the University photographer.
Access the online order form, and learn more in this previous story.
Coverage of the 2008 commencement includes an overview story, an article on speakers Debbie Bial and Robert G. Bottoms, and the comments of the honorary degree recipients.
Back