Tiger Catcher Competes vs. USA Softball National Team
June 13, 2008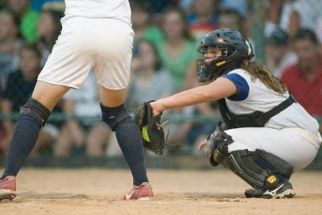 June 13, 2008, Greencastle, Ind. - "It was such an honor to just play for this team," says Rachel Gill, who last night competed against "the giant -- the world's No. 1 ranked USA Softball National Team" at a game last night. Gill, a catcher on the DePauw softball team, played as a member of the St. Louis All-Stars in the exhibition contest, which the USA Softball national team won, 6-0. (photo at left, courtesy North County Journal, shows Gill snagging a pitch in last night's game)
The North County Journal of Hazelwood, Missouri, reports: "Gill, a catcher who will be a senior at DePauw University in Indiana this fall, got one plate appearance Thursday and struck out against [USA star pitcher Monica] Abbott. But she logged three innings behind the plate, something she won't soon forget. 'The highlight was striking out (USA first baseman) Jennie Finch and not letting Crystl Bustos hit one over the fence while I was in there,' said Gill."
She adds, "I thought we did great just to not be (10) run ruled. They played the Kansas City All-Stars the other day and beat
them 17-0."
The newspaper's Mike Elder notes,"the Tigers went 40-4 this past year and just missed making the Division III World Series after taking fifth in the nation last year" ... 'I've really enjoyed it at DePauw,' said Gill, who was recruited by a few Division I schools but opted for a small school for academic reasons. 'It's a great school.'"
The text adds, "A second team all-America selection this season, Gill earned all-region and all-Southern Collegiate Athletic Conference honors for a third straight year after leading DePauw to its first SCAC title. That's all good, but a hit off Abbott Thursday would have been icing on that cake. 'I fouled off two pitches,' she said. 'I was a little nervous, though. I don't know how you couldn't be.'"
Read the full story at the Journal's Web site.
Visit the Tiger softball team online.
Back