Veteran Journalist Howard K. Smith to Provide May's Commencement Address
February 4, 1987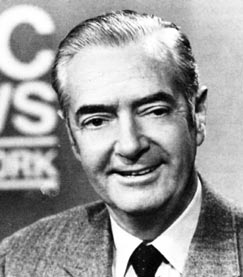 February 4, 1987, Greencastle, Ind. - Howard K. Smith, a pioneering broadcaster for CBS and ABC and former anchor of the latter's evening newscast, will be DePauw University's commencement speaker this spring. Smith, whose career spans from pre-World War II Europe to today, will also receive an honorary degree at the ceremony on Saturday, May 23.
Smith served as co-anchor of ABC Evening News for seven years. He has won virtually every important award for excellence in broadcasting, including the Peabody and an Emmy. Smith is a six-time winner of the Overseas Press Club Award for reporting and interpreting foreign affairs and was twice honored with the DuPont Commentary Award.
Sigma Delta Chi and the American Jewish Congress have also presented him with awards.
Smith began his career as a newspaperman, joining CBS in 1941 as wartime correspondent in Berlin. He was expelled from that country the same year and authored the bestselling book, Last Train from Berlin. Throughout World War II, he covered four different armies and followed the Nazi Wehrmacht in its conquest of France.
Smith joined ABC in 1961. In 1980, he served as moderator of the final Carter-Reagan debate. During his career, Smith has served as reporter or commentator on virtually every major story of his time.
Back