Obama's Senior Working Group on National Security Includes Lee Hamilton '52
June 19, 2008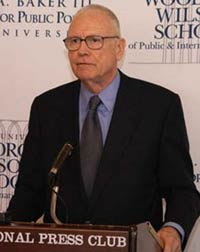 June 19, 2008, Greencastle, Ind. - Lee H. Hamilton, veteran statesman and 1952 graduate of DePauw University, is a member of presumptive Democratic presidential nominee Barack Obama's 13-member foreign policy advisory group, which assembled in Washington yesterday. Sen. Obama "was surrounded by national security experts who had formerly served in Congress and the Clinton administration and will be advising his campaign," reports the Associated Press.
Other members of the panel include former secretaries of state Madeleine Albright and Warren Christopher, former defense secretary William Perry, and Richard Danzig, former secretary of the Navy.
At the event, Nedra Pickler reports that Obama stated "he would bring Osama bin Laden to justice in a way that wouldn't allow the terrorist mastermind to become a martyr, but he may be killed if the U.S. government finds him."
Read the complete story, which includes a color photo of Lee Hamilton with Obama, at USA Today.
Hamilton, who served 34 years in the U.S. House of Representatives, is director
of the Woodrow Wilson International Center for Scholars in Washington. He co-chaired the Iraq Study Group and 9/11 Commission. A November 2006 feature in the Chicago Tribune called Lee Hamilton one of America's "wise men... a storied but shrinking club trusted for the soundness of their advice and judgment, not for the favor that can be returned."
In a recent op-ed, Hamilton wrote that Americans are "starved" for consensus-building. Access the column via this previous story.
Back