Prof. Carlos Carrillo Leads Youth Symphony in Saturday Concert
June 20, 2008
June 20, 2008, Greencastle, Ind. - "Led by conductor Carlos Carrillo," the Wabash Valley Youth Symphony will perform at the Farmers Market in Lafayette, Indiana Saturday. A preview of the concert notes, "Originally from Puerto Rico, Dr. Carrillo is currently a professor of music at DePauw University." (photo: Professor Carrillo teaching a music theory class at DePauw)
The text notes, "The Wabash Valley Youth Symphony (WVYS) is a local non-profit organization that gives young musicians in Tippecanoe and surrounding counties the opportunity to challenge themselves and grow as musicians by playing in a full symphony orchestra. WVYS students play symphonic works as they were originally composed, not abridged or simplified versions often given to youth orchestras, but the same full scores performed by top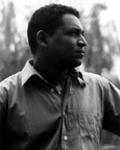 orchestras around the world. The WVYS is made up of 75 youth ages 12-18."
Read more by clicking here.
Carrillo was named conductor of WVYS last year.
Dr. Carrillo's composition, Algunas metáforas que aluden al tormento, a la angustia y a la Guerra, received its world premiere in January 2005 at New York City's Carnegie Hall. Anthony Tommasini of the New York Times commended the work, a concerto for percussion quartet and chamber orchestra. Read more in this previous story.
Back