Home of David and Shannon Forsell ('89 & '88) Featured in Indianapolis Star
January 12, 2009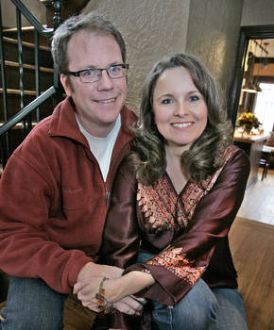 January 12, 2009, Greencastle, Ind. - "This home has more windows than Pella, more stucco than a Los Angeles County ranch, and more character than, well, an entire suburban subdivision. Which is why David and Shannon Forsell just had to have it," writes Abe Aamidor in the Indianapolis Star. "David, president of Keep Indianapolis Beautiful, and Shannon, associate artistic director at the American Cabaret Theatre, have lived in their 2,000-square-foot Tudor-style Arts & Crafts home near 38th Street and College Avenue since 2007. It was built in 1926." (photos: Frank Espich/Indianapolis Star)
Shannon (Gath) Forsell is a 1988 graduate of DePauw University; David received his DePauw degree in 1989. Their home is featured in an article which includes several photographs.
Aamidor notes, "The home has 55 leaded-glass casement windows -- all original, all operable -- and almost all the walls inside are covered in unusual textured stucco that also is original ... The floors on both levels are all original nail-down oak strips with exposed nail heads, except for the kitchen, where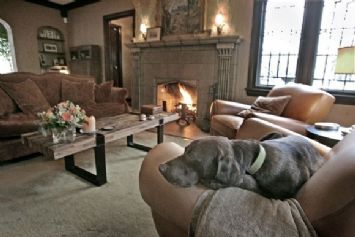 wider pine plank underlayment has been refinished and exposed. The fireplace surround and mantel are the original, now rare Rookwood clay pottery product (similar to terra cotta) made in Cincinnati."
"The challenge for us was not to over-decorate, because the house is the art work," Shannon Forsell tells the Star. "You've got to be careful, because some things could look out of place."
Access the complete text, as well as a photo gallery, at IndyStar.com.
In previous stories, learn more about David and Shannon Forsell.
Back