"Tell-It-Straight Style" of Golf Analyst Mark Rolfing '71 Featured
June 23, 2008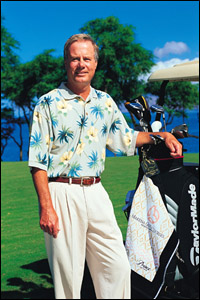 June 23, 2008, Greencastle, Ind. - In the world of golf, analyst Mark Rolfing "is a go-to source through his years of working for ESPN, the Golf Channel, NBC, Golf Hawaii and elsewhere," reports today's Honolulu Advertiser. A 1971 graduate of DePauw, Rolfing arrived in Maui in 1975 and took a circuitous route to become a broadcaster, writes Ferd Lewis.
"A political science degree from DePauw University (where he was Dan Quayle's roommate and golf teammate) and several years of knocking around the pro golf circuits" led Rolfing to a position in "marketing and director of golf operations at Kapalua, where he helped start a tournament, the Kapalua International. What the job lacked in money it made up for in perks, which included playing golf with President Gerald Ford and being able to give himself a sponsor's exemption into the Kapalua International. The last one was especially fortuitous in that an
interview after a good round got him on TV with Vin Scully and Lee Trevino in 1985. When there was a 15-minute delay in play due to a ruling on Peter Jacobsen's shot, Rolfing was able to weigh in with the kind of insight and expertise that got him noticed by network executives."
Today, Lewis writes, "the 59-year-old Rolfing is the man people in a wide array of places have come to turn to for inside information on golf. Tourism officials rely on his advice concerning tournaments. Networks and fans value his insight and tell-it-straight style. When Tiger Woods announced he was limping to the sidelines for surgery, Rolfing's cellphone lit up as if he was appointed Woods' spokesman for all the instant expertise he was asked to dispense. Media outlets far and wide speed-dialed him in."
"I've probably done the whole thing backwards," Rolfing tells the newspaper. "Usually, you have to be a star to get into the broadcast booth and, then, you can retire in Hawaii."
This week, Rolfing is at Interlachen Country Club in Minnesota to cover the U.S. Women's Open for NBC.
Access the story, "Taking a dogleg to TV career," at the Advertiser's Web site.
Mark Rolfing was among those who paid tribute to longtime DePauw golf coach Ted Katula at a November 2005 event. Learn more in this previous article.
Back