Tiger Golfers Selected to Compete in Best Buy Charity Classic
June 24, 2008
June 24, 2008, Greencastle, Ind. - All-America golfers and May graduates Ali Murtaugh (pictured left) and Kristen Kriegshauser (pictured below) have been invited to compete in the Best Buy Charity Classic on Friday, June 27, in Minneapolis.
The event is being held at Prestwick Golf Club while the U.S. Women's Open is taking place at Interlachen Country Club in Minneapolis from June 26-29.
The 2007-08 Duramed FUTURES Tour National Golf Coaches Association All-American Team from NCAA Division I, Division II and Division III were all invited to participate in the event as well as the Ping NGCA Player of the Year and NGCA Freshman of the Year from Divisions II and III.
Murtaugh is a three-time all-America selection by the NGCA including second team in 2007 and honorable mention this year and in 2006. She finished in a tie for sixth at this year's NCAA Division III Championships and led the Tigers to a second straight runner-up team finish. Murtaugh finished the season with a 79.8 stroke average and an 80.6 career average.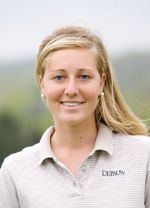 Kriegshauser earned honorable mention all-America honors in 2007 and was a second team choice this year. At this year's Division III Championships, she placed in a tie for 10th. Kriegshauser finished the season with a 79.6 stroke average and 82.1 for her career.
The pair will be honored at a gala on Thursday evening, June 26, and then participate in the Best Buy Charity Classic College Am on Friday. Furthermore, all honorees will have the opportunity to attend the U.S. Women's Open on Saturday, June 28.
Over the past decade, this event, supporting the Best Buy Children's Foundation, has encompassed a celebration of women's professional golf which has proven to be mutually beneficial for both Best Buy and the LPGA professionals alike.
Back