More US College Students Need to Study Abroad, Insists Lee Hamilton '52
June 24, 2008
Also: DePauw Remains Among Top US Colleges for Opportunities to Study Abroad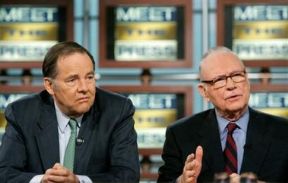 June 24, 2008, Greencastle, Ind. - "Both presidential candidates have identified the decline of America's international prestige as one of the most serious problems that the next administration will face," 9/11 Commission co-chairs Lee Hamilton and Thomas Kean write in a Christian Science Monitor op-ed. "But neither has yet come forward with a detailed plan to address it." (photo, l-r: Kean and Hamilton on NBC's Meet the Press)
Hamilton, a retired congressman and 1952 graduate of DePauw University, and Kean, the former governor of New Jersey, assert, "One crucial step the United States could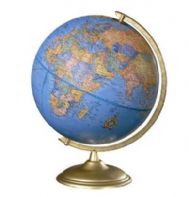 take to improve its long-term understanding of and effectiveness in world affairs is to establish study abroad as an integral component of U.S. undergraduate education. Legislation to address this need is languishing in the Senate. Its passage would provide the next president with an important tool for advancing U.S. interests."
In the column, the two men declare their support for the Sen. Paul Simon Study Abroad Foundation Act. It "would set up a small, entrepreneurial government foundation to provide seed money to colleges and universities to support study abroad and make study abroad programs more accessible. The objectives of this legislation are clear. Within 10 years' time, there should be 1 million undergraduates in study-abroad programs, four times the current number."
According to Hamilton and Kean, "The United States cannot conduct itself effectively in a competitive international environment when our most educated citizens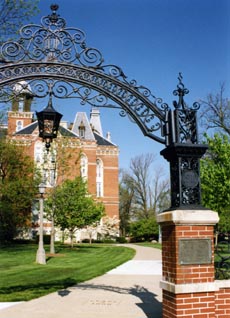 lack minimal exposure to, and understanding of, the world beyond U.S. borders. If we lack the ability to see ourselves as others see us -- a skill imparted through the direct experience of living and studying abroad -- then we diminish our ability to influence and persuade foreign governments and world opinion."
The bill is now before the Senate, where its prospects are uncertain. "The Simon legislation would be a significant step toward creating the educated citizenry that the United States requires," exclaim Hamilton, a Democrat, and Kean, his Republican co-author.
Access the complete essay at New Jersey's Bergen Record.
Lee Hamilton also co-chaired the Iraq Study Group and is currently serving on Sen. Barack Obama's working group on national security.
DePauw is perennially among the top American colleges and universities for the percentage of students who study abroad, with the latest affirmation of that fact in Open Doors 2007, a report by the Institute of International Education. The University was also among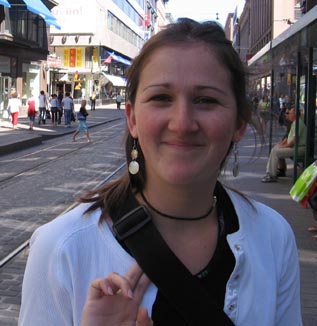 the "Top Producers of Fulbright Awards for U.S. Students, 2007-08" according to a chart published in the October 26, 2007 edition of the Chronicle of Higher Education.
Four members of the DePauw community have received an award from the Fulbright Program, the U.S. government's flagship program in international educational exchange, for the 2008-09 academic year. Eric M. Reese, a May 2008 graduate, will spend a year in South Korea teaching English to young people. Another 2008 graduate, Seth C. Elder, will study and conduct research in Macedonia. Elin P. Raun (pictured), a 2004 graduate of the University, will travel to Estonia for a research project, "The Return of Estonia's Diaspora." Michele T. Villinski, James W. Emison III Director of the Robert C. McDermond Center for Management and Entrepreneurship and associate professor of economics and management at DePauw University, will have the opportunity to spend the upcoming year teaching environmental and natural resource economics and policy at Universitas Surabaya (UBAYA) in Surabaya, Indonesia.
Back