Kelly Morrison '99 Named Head Hoops Coach at HS Alma Mater
June 24, 2008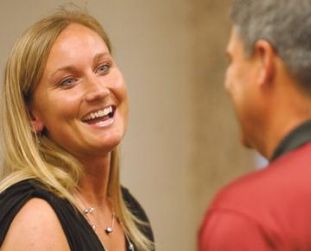 June 24, 2008, Greencastle, Ind. - "I am really excited to have this opportunity," says 1999 DePauw University graduate Kelly A. Morrison, who has been named head girl's varsity basketball coach at Indiana's Huntington North High School, her alma mater. "It's always a dream that once you go through the experiences that I had at Huntington North to be able to come back and lead a team." (photo at left, courtesy Matthew Perry/Huntington Herald-Press, shows Morrison with school board member Rick Brubaker after her appointment was approved)
"Morrison's prior coaching experience includes two years at the helm of the North Decatur girls basketball team in Greensburg," writes Justin Kenny in the Huntington Herald-Press. "The Lady Chargers went 13-8 two years ago and 13-9 last season under Morrison's tutelage. Despite not having a wealth of experience, Morrison decided to apply for the open Huntington North position in a chance that she would be able to return to her hometown."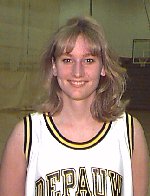 The article adds, "As a player, Morrison set the school record at Huntington North for most three-pointers in a career while averaging 12 points per game for the Vikings. She was a member of the [1995] state championship team that finished 28-1 and beat Carmel in the state championship game. She then went on to play collegiately at DePauw University, where she excelled both at the free-throw line and beyond the arc. When she graduated in 1999, she held every three-point record at DePauw and as a senior was one of the 10 finalists for the Jostens Trophy given to the top player in Division III."
"I have been very well received here and I'm excited about being back in Huntington County," Morrison tells the newspaper.
Access the complete article at the Herald-Press' Web site.
Read more about Kelly Morrison in this previous story.
Back